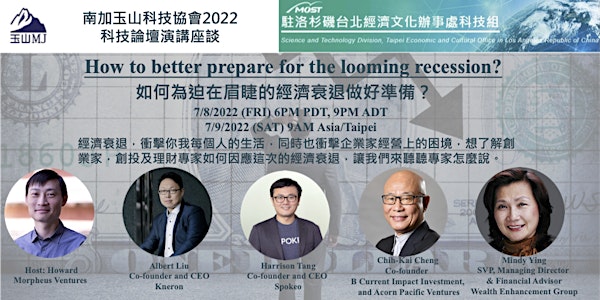 如何為迫在眉睫的經濟衰退做好準備?(How to better prepare for the looming recession?)
摩根大通首席執行官傑米戴蒙最近表示,他正在為美國最大的銀行,準備應對即將到來的'經濟颶風'。同時紅杉資本也警告他投資的創業公司,要為"關鍵時刻"做好準備。經濟不景氣逼向眉睫, 它將衝擊你我每個人的生活,也挑戰企業家的應變能力,和投資人的投資策略。您準備好了嗎?
About this event
南加州玉山科技協會特別舉辦一場線上論壇。
由玉山理事,Morpheus Ventures' Howard Ko 主持,請來以下知名的創業家,創投及理財專家,分享他們務實的因應對策及對未來的遠景:
劉峻誠,耐能,創辦人及董事長
湯京曄, Spokeo, 創辦人及董事長
鄭志凱, 台灣活水影響力投資董事長,矽谷Acorn Pacific Ventures 合夥人
李敏華,Wealth Enhancement Group, 資深副總裁,執行董事及投資顧問
Speaker bios:
劉峻誠 (Albert Liu), Kneron's founder and CEO. After graduating from the Taiwan National Cheng Kung University, he got the scholarships from Raytheon and the University of California to join the UC Berkeley/UCLA/UCSD research programs, and then got his PhD in Electrical Engineering from the University of California Los Angeles (UCLA). Before establishing Kneron in San Diego in 2015, He has worked in R&D and management positions in Qualcomm, Samsung Electronics R&D centre, MStar and Wireless Information. Albert has been invited to give lectures of computer vision technology and artificial intelligence at the University of California, as well as to be a technical reviewer for many internationally renowned academic journals. In addition, Albert owned more than 30 international patents in the areas of artificial intelligence, computer vision and image processing. He has published more than 70 papers in major international journals.https://www.kneron.com/en/about/
湯京曄 (Harrison Tang) is Co-founder and CEO of Spokeo (https://www.spokeo.com/), an identity platform that helps more than 15 million users connect to long lost friends and family and protect themselves from scammers and fraud. Harrison is passionate about building products that help customers get their jobs done.
鄭志凱 (Chih-Kai Cheng), Co-founder of B Current Impact Investment, and Acorn Pacific Ventures. Prior to it, he was the co-founder of Harbinger Venture Capital, a venture fund affiliated with MiTAC Group. Prior to co-founding Harbinger Venture Capital in 2000, Mr. Cheng served as Senior Vice President of Product Marketing and Manufacturing Operations at Synnex Corporation, a Fortunate 500 company. During his eight-year tenure with Synnex, he held various management responsibilities including product line management, engineering, manufacturing operations, new business development and corporate development.Since Harbinger's inception, Mr. Cheng has invested in over 30 companies in US, China and Taiwan, ranging from computing technologies, networking products, semiconductors, software, services, and biotechnologies.
李敏華 (Mindy Ying) 女士目前任職一家管理五百五十五億美元之註冊投資顧問公司Wealth Enhancement Group (WEG),並擔任資深副總裁、執行董事及投資顧問。WEG於2021年被Barron評估為全美前九名的註冊投資公司. 成立於1997年,WEG目前在全美共有72 處辦公室為四萬多客戶在投資及財務規劃上服務.Mindy Ying的團隊Pillar Pacific 是Wealth Enhancement 在加卅甄選尋得的第一家加入的團隊. 目前為近四百位高資產客戶管理近二十億美元資產. Pillar Pacific 有28年卓越的成績,而這個成績是根據全球投資成績評估標準(Global Investment Performance Standard) 並由專業審計公司審查结果而得的.Mindy Ying一直參與許多教會及神學院的事工,包括教會中文學校、聖經教導、財務等事工. 目前是聖迦谷羅省基督教會的社會關懷長老、北美中華神學院院長後緩會成員. 身為社區的一份子,曾擔任金融規劃協會洛杉磯分會董事及受推選為聖瑪利諾市學校教育基金會受託人之一及聖瑪利諾中文學校家長會會長.