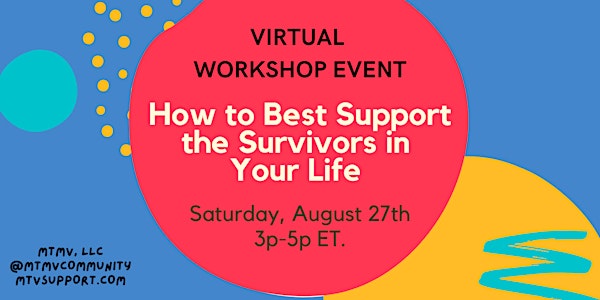 How to Best Support the Survivors in Your Life
How to Best Support the Survivors in Your Life Workshop
Refund Policy
Contact the organizer to request a refund.
Eventbrite's fee is nonrefundable.
About this event
Due to continued interest, I will be offering this workshop again on August 27th!
Unfortunately, sometimes even when we have the best intentions we don't always know how to support the survivors of abuse and sexual violence in our lives.
The fact is sexual violence affects our communities and loved ones of survivors as well. These difficult realities with many other obstacles lead to further isolation and challenges for both survivors & their supporters.
I hope you will join me at this workshop designed to help bridge this gap. I am a survivor, credentialed victim advocate, and trauma educator. I look forward to meeting you.
Saturday, August 27, 2022 | 3p - 5p ET
- How common myths of sexual violence contribute to misunderstandings and challenging communications among loved ones.
- How to more confidently respond when a survivor in your life discloses their experiences, while understanding every victim is unique.
- How additional factors in our communities and beyond can exacerbate the survivor experience.
- The science behind trauma responses and changes in behavior you may see in survivors.
- How to create language to communicate more effectively and compassionately.
- Ways for survivors and supporters of survivors to more safely express their needs and set boundaries.
- Grounding exercises and safe coping skills to learn together.
- Your individual questions, concerns, and more.
Workshop Led By:
Lauren Weingarten (she/her/hers) is the founder of MTMV Community Support Network, a community for survivors & supporters of survivors. A survivor of sexual assault and abuse, Lauren is also a credentialed victim advocate and certified trauma professional.
Before MTMV, she had a successful decades long career working behind the scenes in tv/film production. Her best friend is a pup named Tofu and she loves pizza, falafel, and tending to her plants.
Still have questions?
Who is this workshop for? This workshop is for survivors of abuse and sexual violence and those that support them.
Where is the workshop? The workshop is held on a secure zoom link. The workshop is scheduled to run 2 hours.
What is the cost of the workshop? To make programming as accessible as possible, we have sliding scale options - $16, $26, $36 per ticket
Other? We ask that you be 18+ to participate or accompanied by an adult. Captions available upon request. Reach out with any other questions!
**Pro Tip: The cost of being a survivor is already too high. I strongly encourage supporters to pay for this workshop.