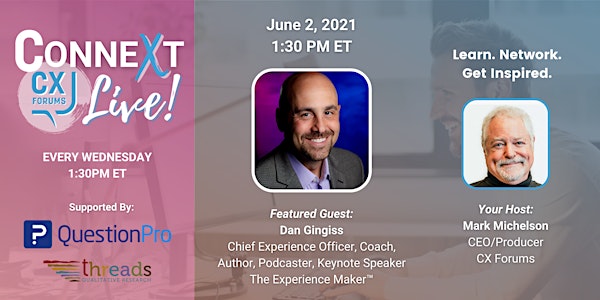 How to Become The Experience Maker™ at Your Company (Replay)
Featuring guest Dan Gingiss, Chief Experience Officer, Coach, Author, Podcaster, Keynote Speaker The Experience Maker™
About this event
Ever wonder how to create remarkable experiences that your customers can't wait to share?
Join Dan Gingiss, Author of "The Experience Maker" as he shares tips on...
How to get more customers without more selling
How to not get stuck trying to compete on price or product
How to get leadership to pay attention
Come for the Chat, Stay for the Networking!
Immediately following the 25 minute fireside chat, we will have 30 minutes of video networking breakouts with everyone who attends. Reserve your place today to network with CX professionals from around the world. Be ready to turn your camera on for the networking breakouts. You never know who you'll meet!
Agenda: (All times Eastern US)
1:20 - Meeting room opens for networking
1:30 - Fireside chat begins with Mark and Dan
1:45 - Q&A
1:50 - Program and recording ends
1:55 - Video Networking Round 1
2:15 - Video Networking Round 2
2:35 - End
The Fireside Chat will be recorded and sent to everyone following the program.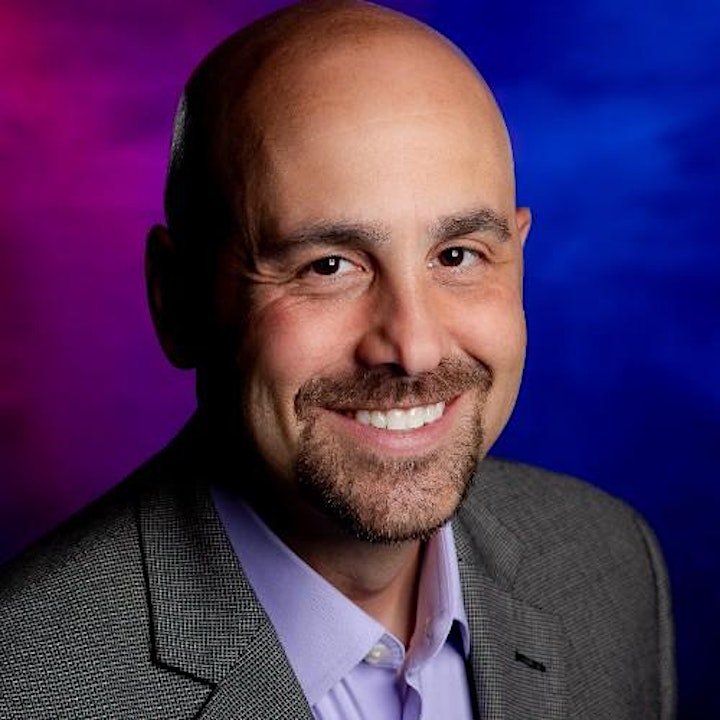 CX Forums Connext Live is supported by Threads Qualitative Research
Specialists in customer experience research with 20+ years experience conducting online focus groups, in-depth interviews, mobile ethnography, bulletin board discussions to support CX innovation.
For more information, contact mark@threadsqual.com
Mark Michelson, CEO/Producer, CX Forums
"I connect people in the CX community to create new opportunities. I'm curious about everything. My mission in life is to help people understand each other. This mission has paved the way on an incredible journey as an entrepreneur for 36 years in the marketing research industry."
Mark is the co-founder of the Mystery Shopping Professionals Association, and founder of the Mobile Marketing Research Association. He is the principal of Threads Marketing Research and CEO of CX Forums.
"I've been fortunate to have traveled to 70 countries where I've met many interesting and talented friends. I'm very curious about everything and passionate about learning new things. My lifelong career as a market researcher has suited me professionally and personally since starting my first company in 1984."
"Since starting CX Talks and now CX Forums, I've furthered my mission and purpose in connecting individuals and communities. With the CX Forums events online and in-person I strive to create meaningful and memorable online programs and in-person events."
Connect with Mark on Linkedin: https://www.linkedin.com/in/michelson