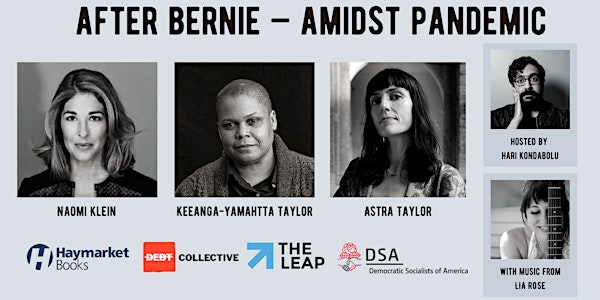 How to Beat Coronavirus Capitalism (Part 2)
An online teach-in with Naomi Klein, Astra Taylor, and Keeanga-Yamahtta Taylor, hosted by Hari Kondabolu.
Refund Policy
Contact the organizer to request a refund.
Eventbrite's fee is nonrefundable.
About this event
"Our teach-in has turned into an "After Bernie" roundtable... there may be tears. And dogs. And kids. And rage. And did I mention tears? There will also be plans for next steps." —Naomi Klein
This event will be streamed live at 5:00 PM EDT on Haymarket Books' YouTube page: https://www.youtube.com/watch?v=6Gi5qGHRJ9c
-------
Haymarket Books is an independent, radical, non-profit publisher. Every dollar we take in from book sales and donations goes directly to support our project of publishing books for changing the world—a project has never been more necessary or more urgent. We need your help to continue to do the work.
While all of our events are freely available, we ask that those who are able make a solidarity donation in support of our continuing to do this work.
Donations raised for this event will be divided evenly to support the work of the four sponsoring organization.
-------
Please join us for a continuation of our online teach-in with Naomi Klein, Astra Taylor, and Keeanga-Yamahtta Taylor, hosted by Hari Kondabolu, and featuring a musical performance by Lia Rose.
This event will also include an update from Dr. Victoria Dooley, and a video message from Arundhati Roy.
Thursday, April 9, 2020, 5:00 PM EDT
Sponsored by Haymarket Books, The Leap, Debt Collective, and Democratic Socialists of America
Register through Eventbrite to receive a link to the videoconference on the day of the event.
You can watch the video of part one, from March 26, here: https://www.youtube.com/watch?v=5lxwLHRKaB0
The current crisis is laying bare the extreme injustices and inequalities of our economic and social system.
We are in a battle of visions for how we're going to respond to this crisis. We will either be catapulted backward to an even more brutal winner-takes-all system — or this will be a wake-up call.
Ideas that were dismissed as too radical just a week ago are starting to seem like the only reasonable path to get out of this crisis and prevent future ones.
We need to use every tool that we have that allows us to hear each other's voices, to read each other's words, to see each other's faces, even if it's just on screens, to stay organized and stay connected. We have to create spaces where we're able to deliberate and strategize about what it means to protect our neighbors, our rights, and our planet.
We have to have the confidence to say this is the moment when we change everything.
Further info:
Watch Naomi Klein's latest video at The Intercept, "Coronavirus Capitalism — And How to Beat it"
Read Keeanga-Yamahtta Taylor's latest column at The New Yorker, "Reality Has Endorsed Bernie Sanders"
Take 70% OFF Naomi Klein's No Is Not Enough, The Battle for Paradise, and La Batalla Por el Paraíso.
This event is part of a series of events hosted by Haymarket Books in the context of the current crisis.
Register for "Covid-19, Decarceration, and Abolition" with Ruthie Wilson Gilmore and Naomi Murakawa
Watch "Capitalism Is The Disease": Mike Davis on the Coronavirus Crisis
Naomi Klein
https://naomiklein.org/
Astra Taylor
https://www.whatisdemocracy.info/
Keeanga-Yamahtta Taylor
http://www.keeangataylor.com/
Hari Kondabolu
http://www.harikondabolu.com/
Lia Rose
Haymarket Books
https://www.haymarketbooks.org/
The Leap
Debt Collective
https://debtcollective.org/
Democratic Socialists of America
https://dsausa.org/