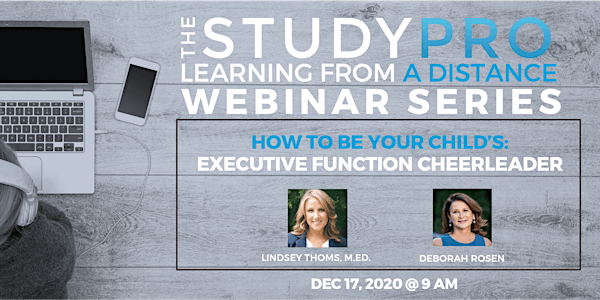 How to be your Child's Executive Function Cheerleader
Improving Executive Function skills helps with focus, flexibility, and perseverance. Learn the best way as a parent to boost these skills.
About this event
One of the great joys for a parent is to cheer our children on as they build new skills.
Whether mastering a sport, playing guitar, or learning to be a problem-solver, we love to see our children's skills grow.
When it comes to school, we praise the obvious skills such as doing well on a test or getting an A on a paper, but often miss the less obvious — but equally important — ones, such as overcoming challenges to get started on that math or chunking up work to get a paper done.
And although learning itself is a skill, when we see missing work, avoidance, or a poor test grade, we often fail to identify the root cause of that behavior as a missing skill. But most likely, it is.
In our December Learning from a Distance Webinar, The StudyPro's Center Director Lindsey Thoms, M.Ed. and Founder, Debbie Rosen, will present:
"How to be Your Child's Executive Function Cheerleader"
Lindsey and Debbie will share:
What Executive Functions (EF) skills look like "in real life"
How to recognize an EF challenge vs. common behavioral challenges
How to help our students overcome the barriers of under-developed EF skills
How to improve EF skills by focusing on small successes and growing their "seeds"
Improving Executive Function skills will help with focus, flexibility, and pushing through frustration. And that's definitely something to cheer about.