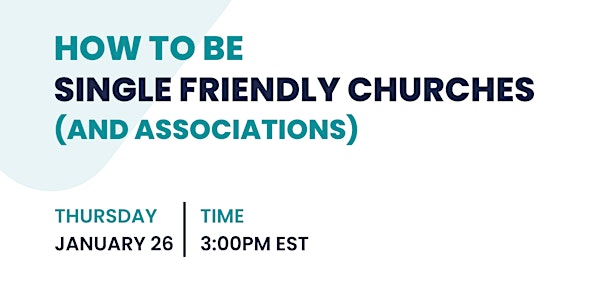 How to be Single Friendly Churches (and Associations)
Sponsored by the SBCAL and featuring ...
About this event
Dr. P. J. Dunn, Georgia Baptist Regional Discipleship Consultant and Founder of Table For One Ministries
Did you know that 40% of your mission field is single adults? Join us for our January webinar on Thursday, January 26, at 3:00pm EST/2:00pm CST, and learn how to help your pastors and churches to reach and disciple single adults more effectively.
PJ Dunn is passionate about reaching and equipping single adults. As an advocate for singles, he travels nationally, speaking, coaching, and creating content for singles and the local church. Table for One Ministries was founded in 2013 with a mission to build community for single adults through discipleship. PJ serves as a discipleship consultant in north Georgia with the Georgia Baptist Mission Board, helping churches make disciples and reach their community.
This webinar is free for SBCAL Members. The cost is $25 for nonmembers. Register now!
The Southern Baptist Conference of Associational Leaders (SBCAL) has a long-standing relationship with the SBC, its agencies, institutions, and associations. It is recognized as the foremost networking, fellowship, and equipping organization for the 1100 Southern Baptist associations across North America.
The purpose of the SBCAL is to equip, encourage, and inspire Associational Leaders while providing opportunities for fellowship, networking, new AMS Training, and peer-to-peer learning.