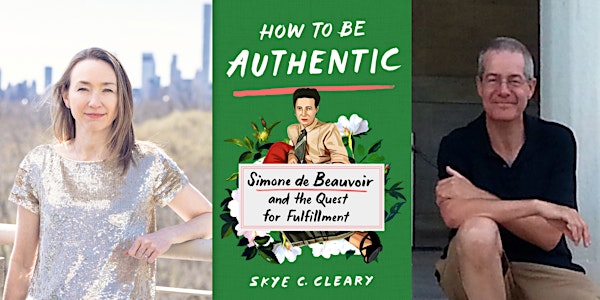 How to Be Authentic Book Party
Join us for an in-person conversation with philosophers Skye Cleary and Massimo Pigliucci about Skye's new book HOW TO BE AUTHENTIC!
When and where
Location
Black Spring Books 672 Driggs Avenue Brooklyn, NY 11211
About this event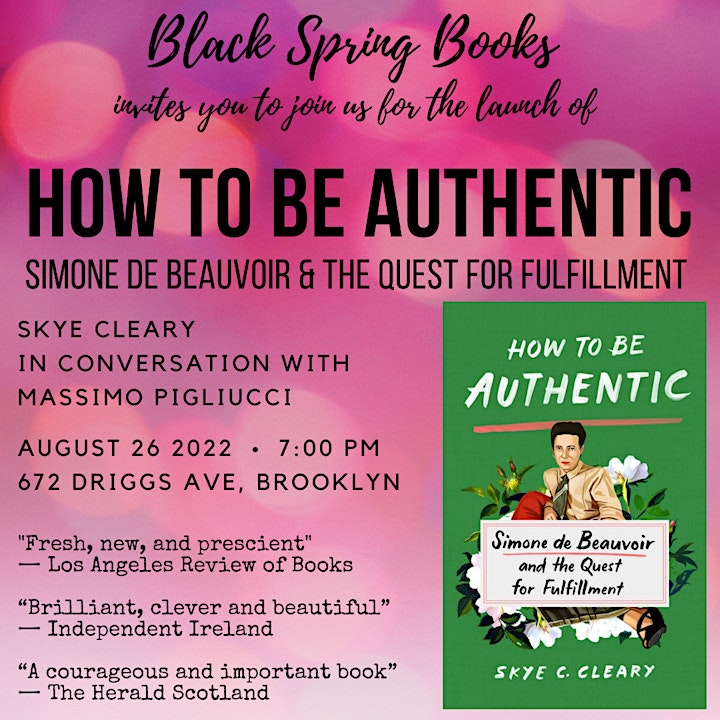 In an age of self-exposure, what does it mean to be authentic?
"Authenticity" has become attenuated to the point of meaninglessness; everyone says to be yourself, but what that means is anyone's guess. For existential philosopher Simone de Beauvoir, authenticity is not the revelation of a true self, but an exhilarating quest towards fulfillment. Her view, central to existentialism, is that we exist first and then spend the rest of our lives creating—not discovering—who we are. To be authentic is to live in pursuit of self-creation and self-renewal, with many different paths towards diverse goals.
How to Be Authentic is a lively introduction to Simone de Beauvoir's philosophy of existentialism, as well as an exploration of the successes and failures that Beauvoir and other women have experienced in striving towards authenticity. Skye C. Cleary takes us through some of life's major relationships and milestones: friendship; romantic love; marriage; children; and death, and examines how each offers an opportunity for us to stretch toward authenticity. While many people don't get to choose their path in life—whether because of systemic oppression or the actions of other individuals—Cleary makes a compelling case that Beauvoir's ideas can help us become more conscious of living purposefully, thoughtfully, and with vitality, and she shows us how to do so in responsible ways that invigorate every person's right to become poets of their own lives.
Skye C. Cleary is a philosopher and writer. Cleary is the author of Existentialism and Romantic Love and co-editor of How to Live a Good Life. Cleary's writing has appeared in The Paris Review, Aeon, The Times Literary Supplement, TED-Ed, and The Los Angeles Review of Books, among other outlets. She was a MacDowell Fellow (2021), awarded the Stanford Calderwood Fellowship (2021), and won a New Philosopher magazine Writers' Award (2017).
Massimo Pigliucci is the K.D. Irani Professor of Philosophy at the City College of New York. His research interests include the philosophy of science, the nature of pseudoscience, and practical philosophies like Stoicism and New Skepticism. Pigliucci has published in national and international outlets such as the New York Times, Washington Post, and the Wall Street Journal, among others. He is also the author or editor of 16 books, including the best selling How to Be A Stoic: Using Ancient Philosophy to Live a Modern Life (Basic Books) and the most recent The Quest for Character: What the Story of Socrates and Alcibiades Teaches Us about Our Search for Good Leaders (Basic Books).