HOW TO BE AN EFFECTIVE NON-EXEC AND BUILD YOUR PORTFOLIO CAREER (NXD)
Actions and Detail Panel
HOW TO BE AN EFFECTIVE NON-EXEC AND BUILD YOUR PORTFOLIO CAREER (NXD)
Wed, May 10, 2017, 9:00 AM – 5:00 PM BST
Description
This course will not only cover all the legal and governance aspects of being a Non-Executive Director, it will also look at the value adding aspects and crucially at how you get started and go about building your portfolio career.
Uniquely this NXD course will not just help you understand the role it will help you to do the role.
Who should attend this course?
Aspiring Non-Execs and Individuals transitioning from full-time to portfolio career
Existing Non-Execs wanting to update their knowledge + / expand their portfolio of roles
What will the course cover?
What the role is all about
Legal liabilities
Corporate governance
Getting started
Board effectiveness
About the course leader

Ian White (Course Leader) – An NXD member who has for many years presented courses in corporate governance and being an effective director for various organisations including Ashridge Business School and the IOD. Ian is also a specialist in Board Performance.
What other say about the course:
"It frightened me to realise that my previous directorships were undertaken without the in depth understanding of the obligations that the roles required. This course made me very aware – and respectful of the responsibilities of a directorship"
"The course helped me understand the greater context of the role, responsibilities and liabilities, above and beyond my niche knowledge/skillset for which I am employed. My level of due diligence has increased enormously as well as my confidence to ask the awkward questions"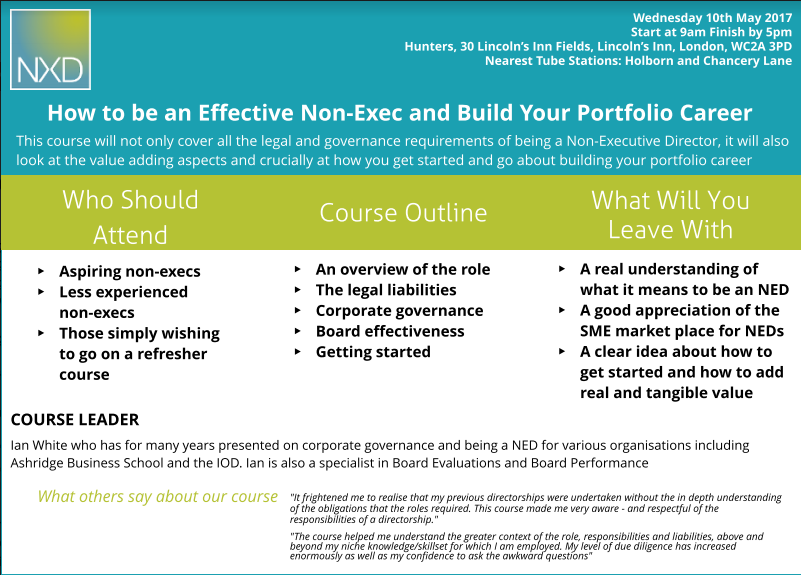 ABOUT NXD
Are you convinced your business has more potential? But concerned you might not have the right level of expertise to develop the growth of the business?
Running your own business is a huge challenge so if you are a highly entrepreneurial start-up or an established but ambitious SME we are now here and ready to help you engage and embrace non-executive directors to strengthen your capability.
Please contact the event manager Marilyn below for the following:
- Discounts for registering 5 or more participants.
- If you company requires a price quotation.
Event Manager Contact: marilyn.b.turner(a)nyeventslist.com
You can also contact us if you require a visa invitation letter, after ticket purchase.
We can also provide a certificate of completion for this event if required.

NO REFUNDS OR TRANSFER ALLOWED ON REGISTRATIONS
-----------------------------------------------------------------
This Event Listing is Promoted by
New York Media Technologies LLC in association
with NDX Ltd.
http://www.NyEventsList.com
http://www.BostonEventsList.com
http://www.SFBayEventsList.com
-----------------------------------------------------------------