How To Be a $uccessful YouTube Content Creator (Invitation-Only Event)
Actions and Detail Panel
How To Be a $uccessful YouTube Content Creator (Invitation-Only Event)
Sat, December 3, 2016, 1:00 PM – 4:00 PM WIB
Description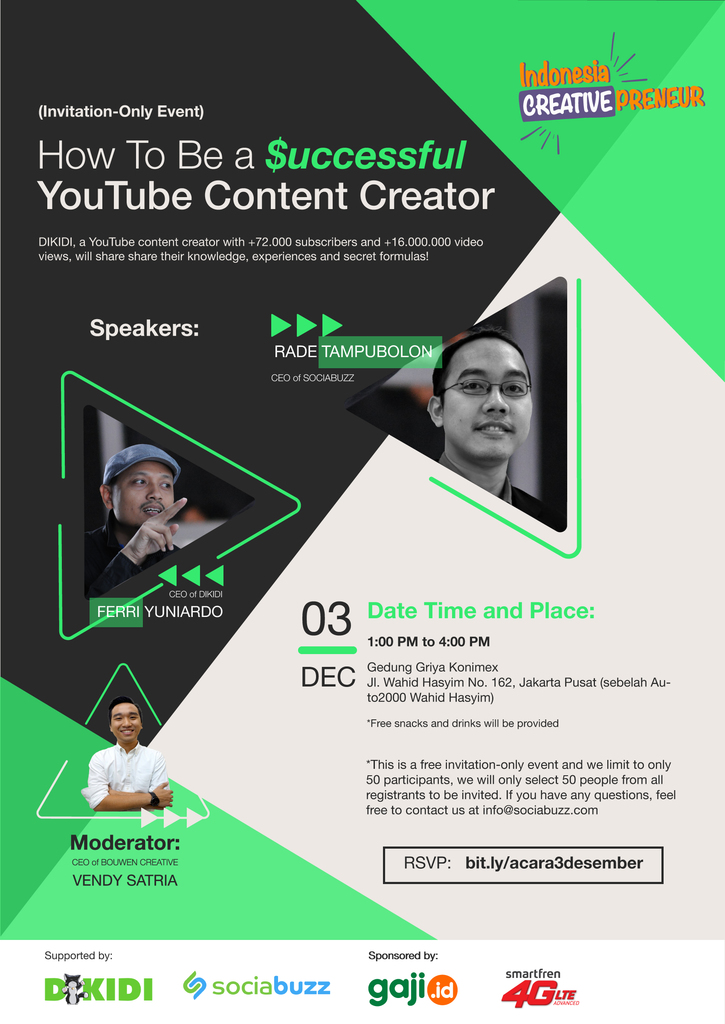 In this event, Indonesia Creativepreneur collaborate with special guests that will give you amazing inspirations.
Want to know the secret formulas to becoming a successful and profitable YouTube content creator?
Just click join and RSVP if you're interested to come, and fill out this form http://bit.ly/acara3desember
DIKIDI, a YouTube content creator with +72.000 subscribers and +16.000.000 video views, will share and reveal all the secret formulas!
Nowadays, most people in Indonesia prefer to watch YouTube videos more than television shows. They can freely choose to watch whatever and whenever they want, and see their favorite videos for many times. For some people, they don't just watch, but they see this phenomenon as a big opportunity to change their life for the better.
Basically, every human unconsciously loves to acknowledge their existence. The easiest way that they like to do most is making simple videos, and now we know it as 'vlogger'. They share what they like to do such as cooking, traveling, making comedy web series, and other things and put it on YouTube. At first, they do it just for fun, but as time goes by, they started to make lots of money from it.
In this event, DIKIDI, an expert in making great YouTube contents, will share their knowledge, experiences and secret formulas just for you, so you too can get a hold of this great opportunity!
Let's take a look at our special speakers:
FERRI YUNIARDO (CEO of DIKIDI)
RADE TAMPUBOLON (CEO of SOCIABUZZ)
Our special moderator:
VENDY SATRIA (CEO of BOUWEN CREATIVE)
We create this event to help grow the ecosystem of creativepreneurs, content creators and influencers.
Since this is an invitation-only event and we limit to only 50 participants, we will only select 50 people from all registrants to be invited.
This is a free event, however when you're selected and receive an invitation, you have to transfer IDR 50.000 deposit to the event committee to confirm your attendance. The IDR 50.000 deposit will be returned immediately to you when you come to the event.
Free snacks and drinks will be provided.
Just click join and RSVP if you're interested to come, and fill out this form http://bit.ly/acara3desember
Be the lucky one to get our special invitation!
PS:
If you have any questions, feel free to contact us at info@sociabuzz.com
Date and Time
Location
Griya Konimex
No. 162 Jalan K.H. Wahid Hasyim
Tanah Abang, Daerah Khusus Ibukota Jakarta 10250
Indonesia