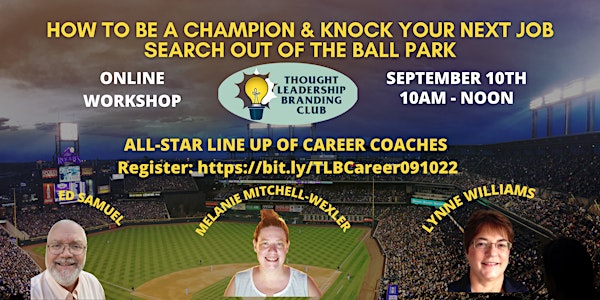 How to be a Champion & Knock Your Next Job Search Out of The Ball Park
The Thought Leadership Branding Club brings you 3 of their Career Experts to help you take your Job Search game to the next level.
Refund Policy
Contact the organizer to request a refund.
Eventbrite's fee is nonrefundable.
About this event
About this event
How to be a Champion & Knock Your Next Job Search Out of The Ball Park
For professionals who want to discover how to navigate and pivot their career in an often topsy-turvy job market, the ins and outs of networking that will help you grow your reach and gain traction in your job search that will help you land that interview and how to stand out in the interview process that will make them want you!
We know you have the ability to be the All-Star that companies are seeking but you have to have the right tools in your tool kit and our coaches are here to help prepare you for success!
How to be a Champion & Knock Your Next Job Search Out of The Ball Park- September 10, 10 am - 12 pm ET
Early bird ends August 31st!
We believe that everyone deserves a pro to advise them to help gain the skills and experience to move their career forward!
So are you ready for this workshop? Are you currently experiencing job angst, struggling with your job search, your career has stalled or you are ambitious and looking to accelerate your career and achieve your career goals? If you answered YES to any of these questions, then YOU are ready!
What you will learn
Actions to Take to show your Commitment to the Career Pivot
Common Interview Questions with Actual Responses
Create an action plan to win in the hidden job market
Discover how to find your target companies
How to Network and Leveraging the Hidden Job Market
Interview Tips That Will Help You Get Hired
Interview Mistakes To Avoid
Know how to reach out to "strangers" for informational interviews
Knowing how to successfully handle any type of interview Learn how a Career Assessment can be Invaluable before Making a Pivot
Learn tips and best practices for business & networking cards
Track your connections and conversations
Keys to Effective Interviewing
What you need to "declare" on a Resume and LinkedIn
Why recruiters will NOT be your friend
AGENDA
Career Pivots - From Outfield to Infield and Making the All-Star Teams - Ed Samuel
How to Score for the Win at All-Star Networking Online & Off - Lynne Williams
13 MVP Interviewing Techniques for the Win - Melanie Mitchell-Wexler
Closing thoughts and TLB Club info
Q & A Session - we have set aside 30 min after to answer your career questions! R
Early Bird Pricing (Ends August 31st) Regular Admission Tickets are $147 (Regular Price is $197) for the general public.
If you are part of the TLB Club's inner circle community of thought leaders, you can access a special code for $127 and $167.
*Members are those who are in the inner circle of Lead Moderators of the Thought Leadership Branding Club. You can also sign up to be a member and get access to weekly coaching calls, internal resources, specialized training and special events like this one. Sign up HERE.
Every attendee will receive a copy of all workshop material and a 1-hour session with the Coach of their Choosing (you will have 30 days to decide to select a coach).
2-Hour Training over Zoom in a Relaxed and Informal environment.
REPLAYS are available for all who register
Sign up today and reserve your spot at "How to be a Champion & Knock Your Next Job Search Out of The Ball Park" -September 10th, 10 a.m. - 12 p.m. EDT
ABOUT THE SPEAKERS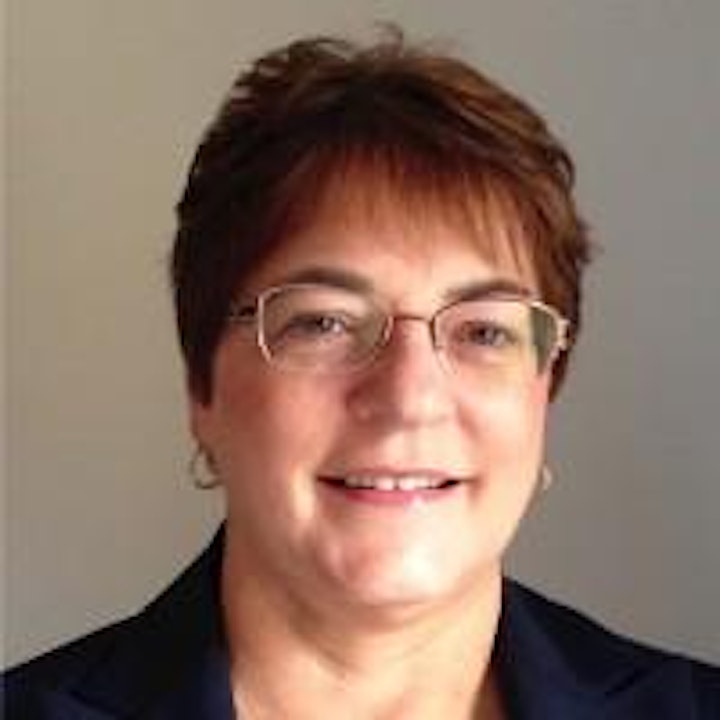 Lynne Williams, Ed.D. Candidate is the Executive Director of the Philadelphia Area Great Careers Group, which provides career education and networking. Contact Lynne by phone at 484-393-2951, email at director@greatcareersphl.org, on social media @GreatCareersPHL and #GreatCareersPHL and connect on LinkedIn at www.linkedin.com/in/lynnewilliams Visit the website and read our SCORE Success Story! We were listed as #1 on the Philadelphia Business Journal's Business Networking Associations in Dec 2020.
Where you can find Lynne:
https://www.linkedin.com/in/lynnewilliams
https://linktr.ee/lynnewilliams
https://linktr.ee/greatcareersphl
https://greatcareers.org
lynne@aroundtheclockexecs.com
@greatcareersphl #greatcareersphl
@LynneWilliams on Clubhouse Fri 11AM-12PM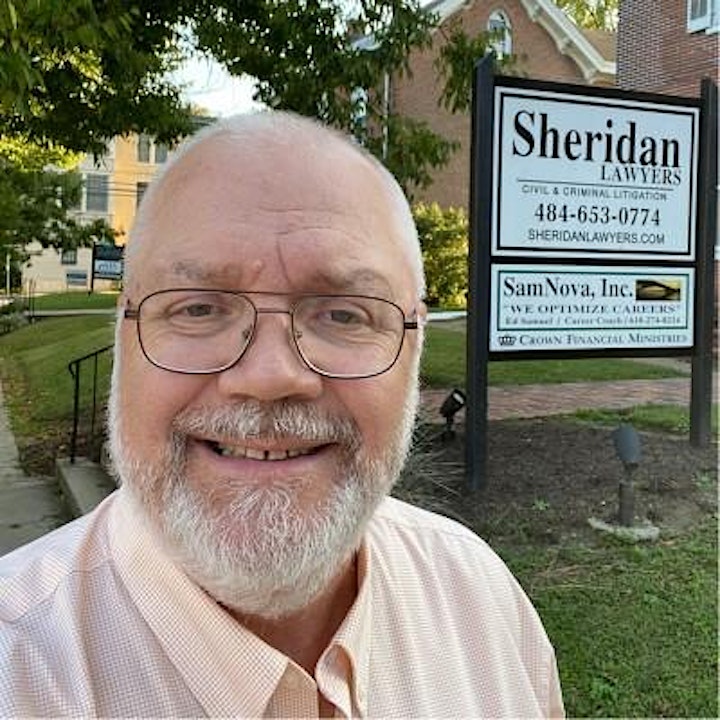 Ed Samuel is a Career, Life and Executive Coach, Public Speaker, Author, certified Career Assessment and DiSC Team Leader and has a non-profit stewardship ministry and founder of SamNova, Inc. (www.samnovainc.com). His team provides career assessments, resume writing, career transition support with emphasis on mid-senior level clients across multiple functional roles and industries. He specializes in leveraging networks, targeted job searches, hidden job market, landing a job 55+ and those making career pivots. Ed leads a team of 20+ career assessment consultants across the US. Ed/team have helped 850+ to date. He has 450+ client testimonials. His firm supports clients across the USA who are working or in transition. He is also a career and small business coach, mentor, and consultant for Penn State University.
Ed leads Career Professionals Networking Forum (CPENG) in Newark, DE, Believers in Business (BIB) in greater Kennett Square, PA, hosts "Optimize Your Career" program on 1180 am WFYL radio, hosts a weekly career optimization forum on Tuesdays at 11 am ET on Clubhouse. He is a frequent speaker at Great Careers Group, ExecuNet, TPNG, Chem/Pharma, Joseph's People, Lehigh Valley Professionals (LVP), FENG, CPENG, Newtown Networking Forum, Career Rebound - FL, PSG of Mercer and Morris County - NJ, CIT - Short Hills - NJ, and The Breakfast Club - NJ. Ed has been a keynote speaker at Wharton Univ. annual Alumni forum, Penn State Alumni, Univ. of Penn Alumni, Univ. of DE, PACD, VOCA Center in NYC, writes for national career blogs and is on regional/national radio, podcasts, and cable TV.
Where you can find Ed :
Website: www.samnovainc.com
LinkedIn: https://www.linkedin.com/in/edsamuel/
Facebook: https://www.facebook.com/search/top?q=samnova
Instagram: @edsamuel58
Clubhouse: @optimizecareer
Twitter:@SamNovaInc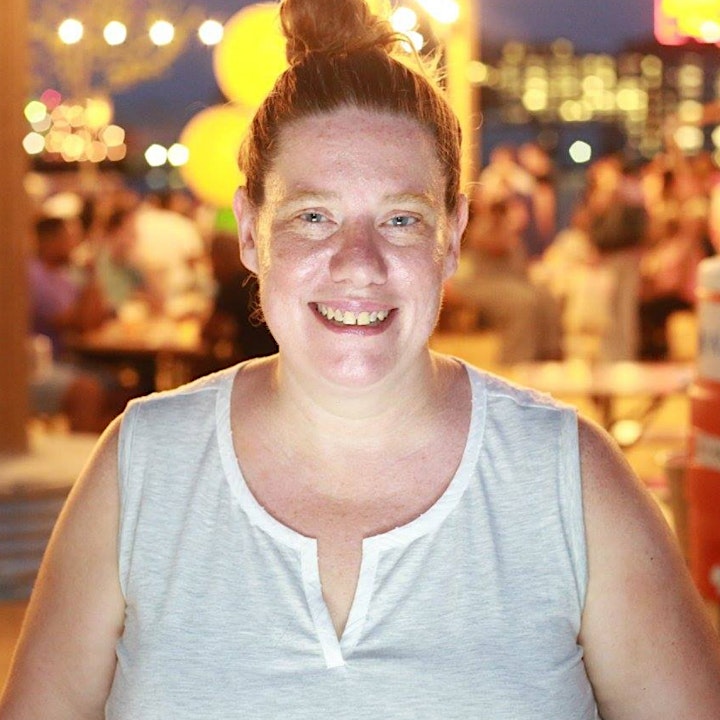 Bringing over 20 years of recruiting and staffing experience, Melanie started Career Coaching in 2017 to help people find meaning and fulfillment in both their lives and careers. Her road to owning and launching her own practice was not an easy one after a roller coaster year in 2017, having pivoted her own career and overcoming both financial and relationship struggles. Melanie is here to say she came out on the other side even better and so can you!
Today, Melanie has taken her success as a recruiter and an innate knowledge of the market to help her clients navigate the job search process. She thrives on helping her clients better understand themselves, understand the job searching process, create stellar resumes, understand how to network, and succeed in interviewing so that they can achieve their goals and land their dream jobs. find their passion, achieve their goals, and succeed in their careers.
Where you can find Melanie:
Website: www.findsucceedachieve.com
LinkedIn: https://www.linkedin.com/in/melaniewexler
Facebook: https://www.facebook.com/AchieveinFindingSuccess
Instagram: @mwexlercareercoach
Clubhouse: @Melaniewexler
Twitter:@mwcareercoach