How to balance Masculine/Feminine Energies with Dilara - Thu 13th October
Description
BUY EARLY BIRD TICKET ON EVENTBRITE LINK.
The money will be donated to NOURISH THE CHILDREN to feed a child for one month.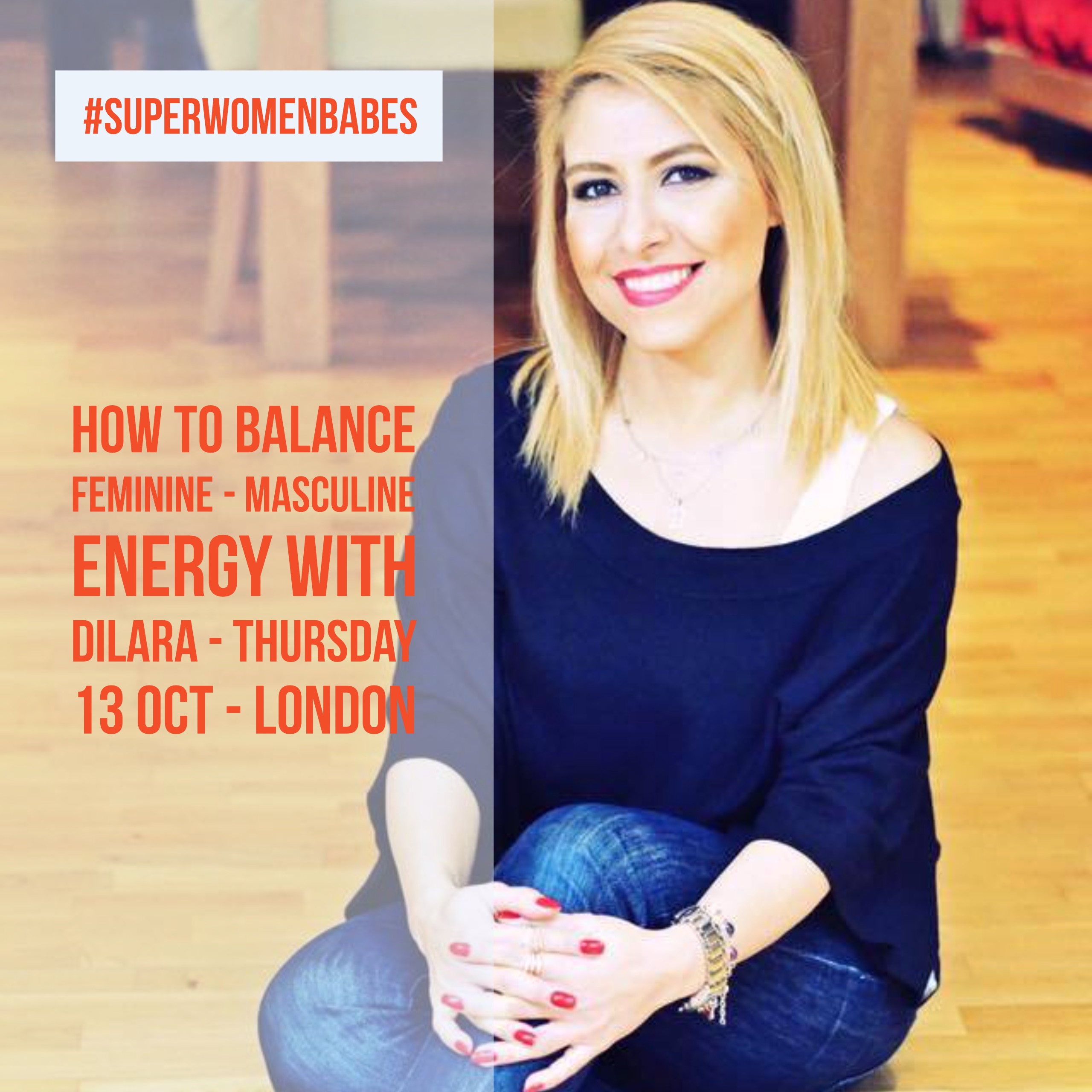 The evening has 3 parts:
18.30 PM: informal networking and intro's.
19.00 - 20.30: Special guest mastermind and workshop
20.30 - 21.00: Q&A
21.00: drinks at the bar and lounge of beautiful Eight Members Club.

BUY EARLY BIRD TICKET ON EVENTBRITE LINK.


OUR GUEST

Dilara is a personal transformation coach and public speaker who focuses on the polarity issues in relationships.
She runs regular workshops and events about this topic in London and coaches clients worldwide.
To know more about her: http://dilaratetik.com/
During the workshop you will be guided through the most important secrets of a healthy relationship:
How to understand yourself, and how to create not just the balance in your relationship, but also how to maintain the right balance between your masculine and feminine energies.
We've all heard about Ying-Yang and the inner balance of masculine and feminine energies, yet do we really understand it? Why is the balancing of these inner energies so important? What are some of the consequences if they are out of balance? How does our personal experiences of masculinity and femininity influence our life and our relationships?
All this will be covered during the workshop:
-Why it is so important to work on our self-awareness of who we are, before seeking 'the perfect partner' and how to do this in the real world
-How to gain self-awareness of who you are as an individual, and within your current relationship, and how to dissolve any challenges that you might currently be experiencing
-How to unleash your innate energy and how important it is to be in your innate masculine energy as a man and in your innate feminine power as a woman
-Real world practical ways to communicate with the opposite sex effectively
-How to understand yours and your (potential) partners love language for ease of connection andalways feeling like your partner loves you
-How aligning your vision is key for a long lasting conscious relationship
-What are your values and why it's so important to know what each other's are when in a relationship
-Building listening skills that promote trust and empathy so you always feel heard
-The importance of sexual polarity for a long-term relationship where the honeymoon period doesn't dwindle with time
-How to work through challenges as a couple and to recognise when it's solely related to you, your partner or both of you
Bring your girlfriends who want to be part of this event.

There are limited places so we will need to ask you to confirm attendance for your self with the names of your guests.
Dress code: Super(wo)man meets Babe.

BUY EARLY BIRD TICKET ON EVENTBRITE LINK. The money will be donated to Nourish the Children.


WHAT SUPER(WO)MEN BABES ARE ABOUT?
Are you tired of always working, focusing, networking and having to be business minded, in Super(wo)man mode?

When and where do you find time to hang up your Super(wo)man cape and to be the Babe?

And what are your daily rituals to nurture the Babe?
In this event we will talk business and beauty and health/wellbeing routines and rituals..

To understand how I see the synergy between the archetype of Superwoman and the Babe, watch this video: https://youtu.be/iYrx3WSNpl0?list=PL9F951E52029A4D30​I