How to Approach Your Business as a Spiritual Practice - Miracle Salon

Monday, October 14, 2013 from 6:30 PM to 10:00 PM (PDT)
Event Details
Click HERE for Address & Location Information
Just around the corner from Ecstatic Dance | Awaken Cafe | Oakland Art Murmur. All Proceeds from this conference center underwrite the philanthropic activities of the East Bay Community Foundation, serving the 2.4 million people of Alameda and Contra Costa counties.
---

Brilliant women speakers ... and YOU!


"Emotions in Business: A Better Way to Feel" — With Joie Seldon, M.A.  Emotional Intelligence, Business Results and Presentation Skills Coach


"The Power of Social Media to Generate Leads & Sales for Heart-Centered Entrepreneurs" — With Mary Liu, Visibility Mentor, Speaker, Best-Selling Author & Wisdom Success Circle Facilitator

"Beyond Money: The Secret to Creating a Vision to Fuel Your Work & Life" — With Nikki Pava, Sustainability & Marketing Strategist

Special Guest
— Shannon Law, "The Producer with the Golden Rolodex." She's successfully produced live events that generated over ½ Million dollars in just 4 days. Shannon has shared the stage with Mark Victor Hansen, author of Chicken Soup For The Soul, Lisa Sasevich, Loral Langemeirer from The Secret, Marshall Sylver and Bill Rancic winner of Donald Trump's Apprentice. She's learned the inside secrets of the speaking industry and how to consistently generate 6 Figures. While her warm heart is intoxicating and her laugh infectious, her big impact is in the ability to help you monetize your message and get more visibility so you can make the difference you're called to make.
---
Discount Codes
6-Event Discount Pass

Attend for $15.00 with a discount multi-pass.
Good for any upcoming events. No expiration! Use promotional code,  FEMpassYES  when you register to get your discount multi-pass. 
Maiden & Matron Discount Ticket

- Young women 16 - 23 yrs
- Women 60 yrs or over
Attend any of our Miracle Salons for $19.00 - Use promotional code,  MMYES  when you register to get your discount. 
---
 EVENING PROGRAM 
"Emotions in Business: A Better Way to Feel"

 — With Joie Seldon, M.A.  Emotional Intelligence, Business Results and Presentation Skills Coach

"She's just being emotional." We've heard it before. We as women are stereotyped as being "overly emotional", or worse yet, when we control our emotions, we're labeled as "cold" or "a bitch." We know our emotions are a part of us. But can our emotions get in the way of growing a successful business or career?

Your emotions can be valuable resources for focusing energy, taking action, and connecting with potential clients. Without an understanding of how this works, however, these resources are squandered, and can cause you to lose business and/or money. What if you could be more successful and fulfilled because your emotions work for you, rather than against you? 

In this talk Joie will share: 
* The keys to Emotional Intelligence.
* How to utilize your emotions for positive decision-making.
* A fantastic technique for getting unstuck and taking action.

Free Raffle Giveaways: (1) A 90-minute Private Emotional Intelligence coaching session. (2) A 90-minute private Presentation Skills coaching session. (3) For everyone, a chapter from Joie's upcoming book "Emotions: An Owner's Manual," and a guide  "The 6 Mistakes You Don't Even Know You're Making That Sabotage Your Networking, and What to Do Instead." 
"Own YOUR Success – It's Time to Let Your Brilliance Shine and Be Seen as the Feminine Leader You Are!"

 — With Mary Liu, Visibility Mentor, Speaker, Best-Selling Author & Wisdom Success Circle Facilitator

Are you longing to become the feminine leader you know you are capable of transforming into?  But, has your little voice been telling you differently?  In this presentation, Mary will inspire and motivate you to recognize and celebrate your own successes through the poignant stories she shares of her own personal challenges from overcoming shame and her lack of self worth.  Audiences will identify with elements of her stories as their own and will walk away seeing their own brilliance in a new light.

In this talk with Mary, you will learn:

* The importance of celebrating your successes and how that can transform your life and your business
* The many ways you can "own your successes" and let the world know you're here and you matter
* Why it's perfectly okay to brag about yourself

Free Raffle Giveaway:
60-minute empowerment mentoring session to find the Authentic You.
"Beyond Money: The Secret to Creating a Vision to Fuel Your Work & Life"
— With Nikki Pava, Sustainability & Marketing Strategist

The one distinguishing characteristic that is common to all successful people is a passion and enthusiasm for life. Cultivating a compelling vision for our lives can truly be one of the most powerful forces to expand beyond ourselves and achieve our biggest goals. However, many of us struggle to find our unique purpose, and therefore aren't able to harness this flow from our source. Once we have this clarity and guidance, we can navigate difficult situations with ease and create what we most desire.  

In this talk with Nikki we will learn 
* Learn a specific way to articulate your vision and purpose to help inspire big goals that are in alignment with your path
* Get the clarity and guidance you need to create what you really want
* Learn how this method can support you in all aspects of your life

Free Raffle Giveaways:
1 Roku box (for streaming media)
2 $25 gift certificates to the evox store


Bonuses!
You get these 
free 
gifts
(we'll send you all the info in our "thank you" email after the event)
2. FREE Access Code to our upcoming, 
Up-Level Your Prosperity 
monthly support & tools tele-class (and get the recording).
3. FREE Ticket to Shannon Law's 
Monetize Your Message Through Speaking
 live webinar.
4. 
FULL Scholarship to the November
Client Attraction Summit
SF.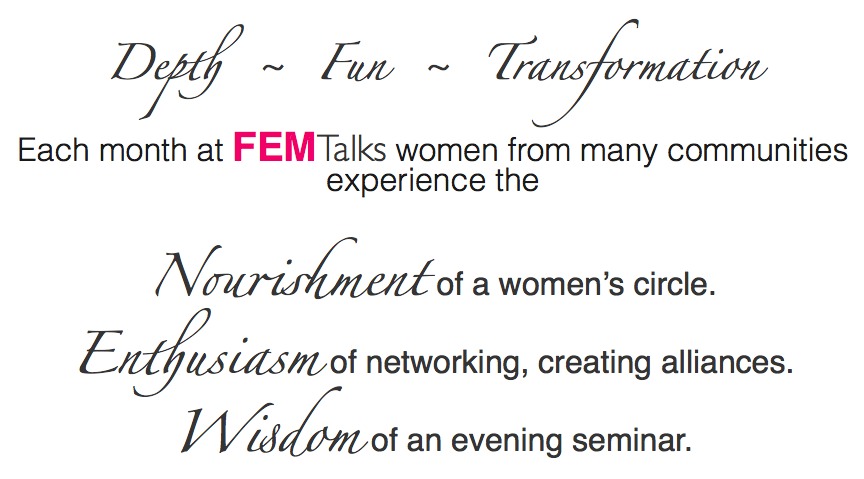 Attendee List
Sort by:

Date

|

First Name

|

Last Name
When & Where

ADDRESS EMAILED to you upon registration - check your inbox
Frank H. Ogawa Plaza
Oakland, CA 94612


Monday, October 14, 2013 from 6:30 PM to 10:00 PM (PDT)
Add to my calendar
Organizer
FEM Talks Alliance of Healers, Leaders, & Educators
See our full lineup of women's events - femtalks.org
"Experience the fun and self expression of a networking event, the learning and transformation of a seminar, and the depth and connection of a women's circle."
~ Jessica Hadari, Founder
What Women Are Saying About FEM Talks:
Big shout out to Jessica Hadari for her fabulous brilliance to create FEM Talks. I had the blessing of speaking with a packed house of BRIGHT GREAT WOMEN on Monday Night. Wow, did we activate Feminine Super Powers that night! I'm still charged with LOVE. Thank you!
- Christine Arylo - International speaker. Author of Choosing ME before WE and Madly in Love with ME
Big thank you out to the women who came together at FEM Talks last night. I deeply respect the courage and wisdom that came through the other speakers and the beauty of the women who attended and leadership of Jessica Hadari. It was a pleasure and an honor to dance with all of you!
- Heather Munro Pierce - Founder, TransDance and Temple Arts Institute
Thanks to all you lovely ladies who were at FEM Talks tonight! It was an honor to spend time with you and share the stage with such amazing women.
- Stacy Vajta - Owner, Expanded Pathways
Thanks for another amazing FEM Talks! I constantly feel so blessed to know and be surrounded by so many beautiful, radiant women! Thank you Jessica Hadari for the magnetic & luscious energy you bring. Thank you to all the beauties who show up to make this so nourishing to my soul! I receive!
- Amanda Elo'esh Johnson, MA - Speaker. Spiritual Catalyst
Feeling profoundly inspired and supported on this beautiful full moon night by FEM Talks, one of my most awesome communities.Thanks Jessica Hadari for showing up and creating this wonderful intention and space for all of us.
- Archana Sachdev
FEM Talks was wonderful. Thank you for creating yet another opportunity for women entrepreneurs to connect, shine and share!
- Shera Sever - Coach, Organizational Strategist,  Speaker.
Last night I gave a talk on Influence to a room of insightful and radiant women. Super thanks to Jessica Hadari, Founder of FEM Talks for a great eve.
- Caterina Rando - Founder, Thrive Publishing
How to Approach Your Business as a Spiritual Practice - Miracle Salon