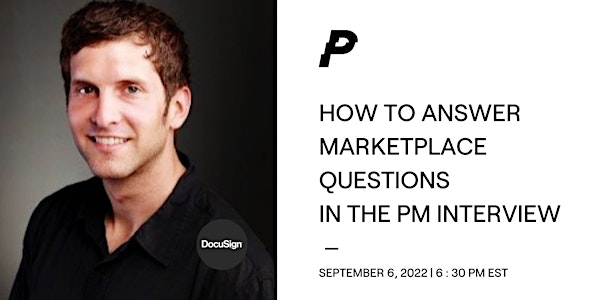 How to Answer Marketplace Questions in the PM Interview
A live webinar class on how to answer marketplace questions in the PM interview!
About this event
This is an exclusive webinar, where you will get to attend one of our actual webinar classes with Product Gym's members. There will be no more than 5 seats being offered. 
Main Takeaways:
Understanding why many marketplaces fail
Understanding supply and demand for a marketplace
A Product problem: understanding the personas, value propositions of the many sides of the market
Where do you start? When to seed the supply side, and when to seed the demand side
Usability: applying funnels to ensure usage
Business Models: remembering your goals
Hooks: understanding how to achieve viral growth on both sides
Meet the Instructor:
Product Manager at DocuSign
Jeremy is an experienced Product leader of over 11 years with a proven track record of building APIs and monetizing developers platforms at places like Box and Tradeshift. He managed and expanded communities of tens of thousands of developers, executed on high profile integrations promoted by Salesforce and Google, and established key components to monetization with platforms. While focused on Product Management and APIs, he also manage developer relation programs and application marketplaces.
As a consultant, he supports companies in launching new products and APIs, to grow developer communities, and manage healthy marketplaces. He also provides guidance in applying Product Management processes for businesses as they build their Product teams.
He also advises and mentors startups and accelerators, such as Alchemist, Techstars and Salesforce Accelerate.
His specialties include but are not limited to: Product Management, Product Strategy, Developer Relations, API Integrations, and Partner Relations.
Disclaimer: This class is part of a 12-class cohort cycle with Product Gym, an exclusive membership association dedicated to the advancement of product managers. Guest attendee tickets advertised in this Eventbrite are limited to two total classes per individual. If you are interested in attending more than two total Product Gym classes, please schedule a call with us at: https://productgym.io/schedule-a-call/.