Live webinar to help businesses align their vision & goals to achieve unstoppable results with their team and clients
About this Event
Discover a proven system to align your Vision & Goals with your Team and Clients...Even if you have NO idea where to start.
In this Workshop, You will Discover 3 Major takeaways:
► How to avoid the failure cycle to achieve a higher level of success in your business life.
► How your mental barriers and preventing you from achieving greater results in life.
► The top secrets of successful business owners.
► How to beat procrastination and be more productive.
► How to become an OPC person!

► Are you CERTAIN about your goals but UNCLEAR on how to achieve them?
► Does your self limiting beliefs holding you back to move forward and align your vision and goals with your team?
► Are you facing some challenges in effectively aligning your vison & goals with your management team and clients and being uncertain about what process to use?
If You Said Yes To ANY Of The Above, Then I Want To Invite You To Join This 'Workshop on How to Align your Vision & Goals With Your Team And Clients' And Change Your Business Forever!
This Workshop is NOT the usual free workshop that gives you 10mins of value with a 30mins introduction and 20mins sales pitch "that you'll never use"…
By the end of this workshop, you will be able to discover How to Align your Vision and Goals with your team and client and start creating a plan to transition to a better lifestyle.
And even more importantly, by consistently applying what you will learn in the workshop, you'll be able to change your business forever!
Who am I?

My name is Luci Lima Leone and I'm a Business Development Coach.
I started coaching in Brazil.
I was an English Language teacher assisting high-level executives.
I went from teaching them a language to helping these executives develop and sustain effective personal growth.
I saw these people become successful leaders, I saw them improving in their careers and getting promoted.
That is how I started coaching.
Since my early ages, I can clearly remember my mother's lessons about pursuing goals and helping others to become better in what they do.
I inherited from my father how to dream big.
My father was a great example of how your dreams and your visualization can take you wherever you want to go.
They both gave me a lot!
They inspired me to pursue my profession.
As a Business Coach today I can give back to others.
I have been fortunate to gain knowledge and experience with the help of all these amazing people who played incredible roles in my life.
Two years and 9 months ago, I moved from my native Brazil to the beautiful city of Charleston, South Carolina, where I am living my passion.
My journey from Brazil to the United States has enabled me to appreciate how we all need to adapt and evolve, in order to grow in all areas of our lives.
I recently joined Life in Balance Careers as a YB12 Coach and my company's mission is to bring self-awareness and professional growth to all of those who seek changes in order to surpass their limitations and perform at their best.
As an Accredited Business Coach, I am committed to helping Business Leaders align their Vision and Goals to achieve Unstoppable and Solid Results for their teams and clients.
I help small and large organizations to have their best year in business and in life.
My unique and diverse background gives me a world view to better serve my customers.
My motto is to challenge the new, uncover obstacles, and face the unknown.
One of my Major Goals in Life is to help as many people as I can to achieve their full potential, and I hope to add you to my list of extremely satisfied clients.
Can't wait to meet you and share our amazing life & professional experiences!
"All the marks in the world mean nothing compared to the marks you are about to make"
Amber Tamblyn
What do people say about me?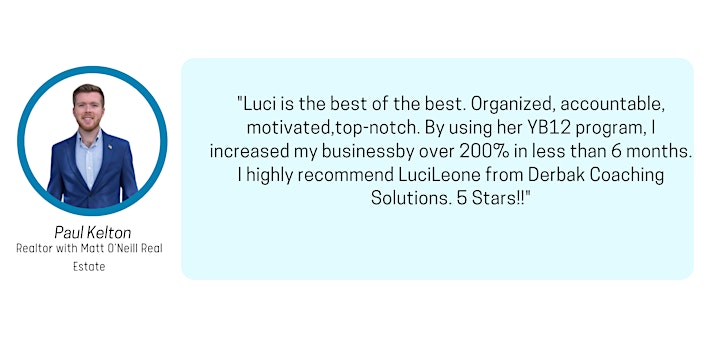 Are you still not sure if this is for you? This is what you can expect...
This workshop will help you discover a proven system to align your Vision & Goals with your Team and Clients
A clear and effective way to eliminate the mental barriers that prevent you from achieving your goal
Steps on how to become an OCP person
This workshop will be attended by like-minded individuals and to become part of a community that will support each other to grow is just spectacular.
So what are you waiting for?... Join Us Now..