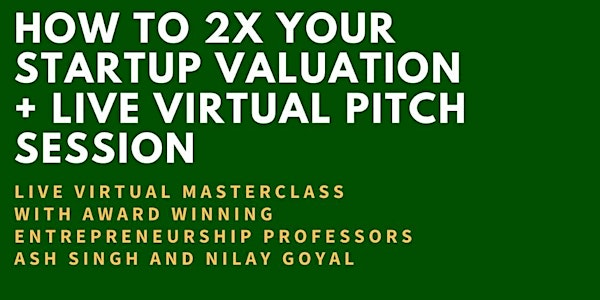 How to 2X Your Startup Valuation: Masterclass + Live Virtual Pitch Session
LIVE MasterClass session from serial entrepreneurs & top business school Professors to learn about how you can 2x your startup valuation.
About this event
What's in it for you?
1. Learn about the most important aspects of launching, and scaling a startup, and raising funding.
2. Get an overview of our research-backed framework and methodology, including an introduction to the Startup Course Canvas.
3. Meet business experts that have built, launched and exited startups and have helped hundreds of founders who have raised over $1 Billion in funding.
4. Learn about how you can accelerate your startup and increase its valuation by 2x in a hundred days, through the award-winning Hyper Accelerator Program.
5. Get an opportunity to pitch and get feedback on how to improve your pitch for more success.
Learn more about the speakers:
Ash Singh - Entrepreneurship Professor who helps startup founders raise funding, scale, and exit. $1 Billion raised to date
Watch Ash Singh's interview with CNA - Millionaire Minds and see how he made his first exit at 22 years old.