Description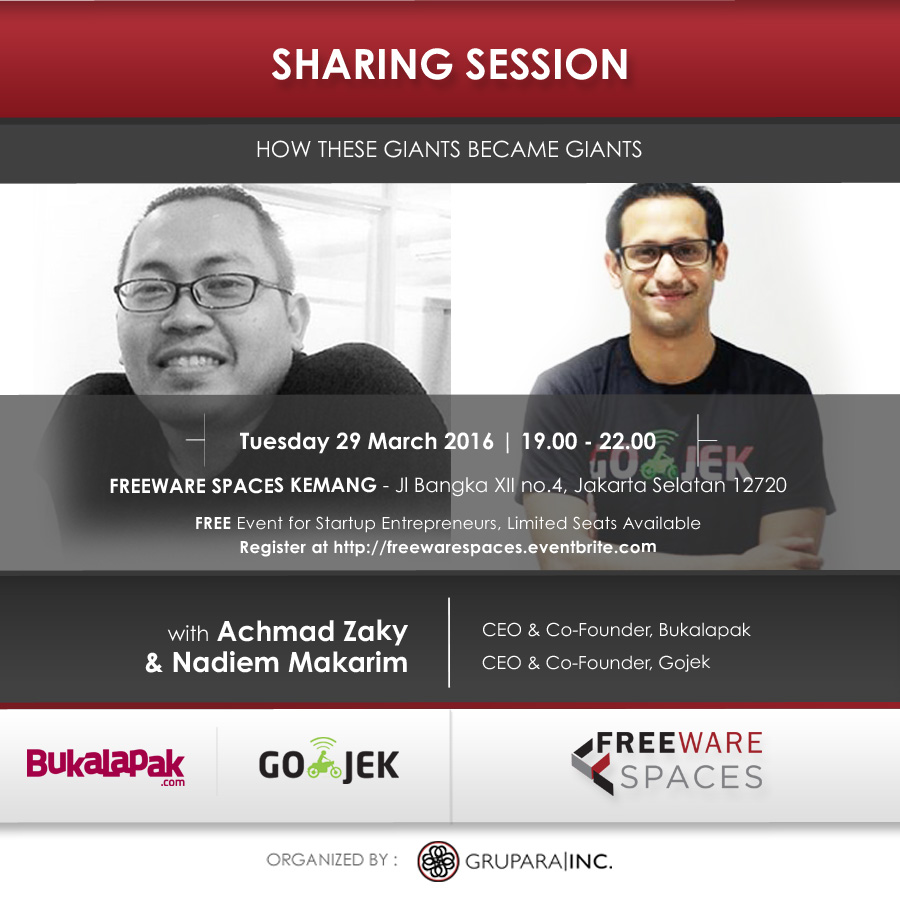 GRUPARA INC Presents:
Sharing Session "How These Giants Became Giants", The story about how these founders built their way to become one of Asia's unicorn.
at FREEWARE Coworking Spaces Kemang
with
- Achmad Zaky (CEO & Co Founder , Bukalapak)
- Nadiem Makarim (CEO & Co Founder, Gojek)
*Free for Entrepreneurs & Tech Enthusiasts,
Date / Time : Tuesday, March 29th, 2016 @ 6pm
Location: FREEWARE SPACES KEMANG
Jl. Bangka XII no 4
Jakarta Selatan 12720
CP: info@freewarespaces.com
18.00 - 18.50 : Registration & Networking
19.00 - 19.45 : Achmad Zaky (Bukalapak)
20.00 -20.45 : Nadiem Makarim (Gojek)
21.00 - 21.30 : Networking & End of Event
TRY WORKING AT FREEWARE SPACES KEMANG FOR FREE ON THE DAY OF THE EVENT STARTING 08.00 AM EMAIL ICHA@FREEWARESPACES.COM FOR DETAILS
Ahmad Zaky (CEO & Co Founder Bukalapak)
Zaky has actually started dabbling in the start up world since he was in college at Institut Teknologi Bandung (ITB) majoring in Computer Science , class of 2004. During college, Zaky often won several national-level competition , one is the second winner in Indosat Wireless Innovation Contest in 2007. He made ​​a software called MobiSurveyor. This device is useful for doing quick calculations in a survey. Zaky also get a Merit Award in the competition INAICTA (Indonesia ICT Awards) in 2008. Later on, Zaky had won a scholarship to Oregon State University study of the United States government for two months in 2008. In addition, he also once represented the ITB in the event the Harvard National Model United Nations 2009
After graduating from college, then Zaky make an online marketplace named Bukalapak.com, which was officially founded in 201, created with the aim to empower small and medium businesses Indonesia by providing a forum for these SMEs to sell and find buyers of their products. Bukalapak.com has a mission to raise the grade of SMEs in Indonesia since SMEs was a major player in economic activity in the country. Zaky noticed that, this kind of marketplace would bring substantial benefits to all parties in a view of SMEs provide huge employment opportunities for the people in Indonesia.
After a year, bukalapak received funding from Batavia Incubator (joint stock company of Rebright Partners , led by Takeshi Ebihara , Japanese Incubator and Corfina Group) . In 2012 , bukalapak received additional investment from GREE Ventures led by Kuan Hsu . In March 2014, bukalapak announced an investment by Aucfan , IREP , 500 Startups , and GREE Ventures . And most recently in February 2015 , bukalapak getting investment serie B of Emtek Group - SCTV Group (PT Creative Media Works)
By having more than 150k individual / small bussiness entreprise, Zaky made Bukalapak as one of the biggest reliable online marketplace for SMEs in Indonesia.
Nadiem Makarim (CEO & Co Founder Go Jek)
Graduated from Harvard Bussiness School, Nadiem Makarim founded ​​GO - JEK from the idea when he discussed with the motorcycle taxi drivers. Nadiem rarely use the car because of his high mobility, he is more likely to use an Ojek (motorcycle taxi service). Nadiem who got his Bachelor from Brown University, known to have worked in a firm McKinsey & Company and spent three years working there. He was the Co -founder and Managing Director in Zalora Indonesia and later became Chief Innovation Officer in Kartuku. Armed with a lot of experience during the work, Nadiem Makarim then ventured to quit his job and founded the company GO- JEK in 2011 .

His philosophy is to try everything and do what he does best. It's no secret that many people in Jakarta have quit their jobs to become Go-Jek drivers. Go-Jek represents the opportunity to increase income and bolster their livelihoods.

Now Gojek has more than 200,000 drivers in 10 Indonesian cities. Have raised investmens from North Star & the world 's famous Sequoia Capital (Investor of Google, Airbnb, Yahoo, and Zomato)