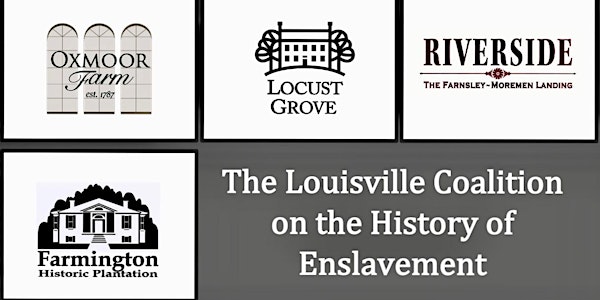 "How the Word is Passed" Book Discussion
"How the Word is Passed" Book Discussion Sponsored by the Louisville Coalition on the History of Enslavement
When and where
Location
Locust Grove 561 Blankenbaker Lane Louisville, KY 40207
About this event
Join us for a discussion of Clint Smith's How the Word is Passed: A Reckoning with the History of Slavery Across America. This important New York Times bestseller looks at the memory and legacy of slavery in America at former plantations such as Jefferson's Monticello and the Whitney Plantation in Louisiana, Angola prison, historic cemeteries, and other places of remembering and forgetting ranging from New York City to Ghana's Gorée Island.
The book discussion will be led by moderator Dr. Felicia Jamison of the University of Louisville. We invite participants to reflect on the places and topics of the book and also of their own experiences at places connected with America's history of enslavement. How do we "pass the word" today?
Free admission – advance reservations requested.
The discussion will be held at Historic Locust Grove located at 561 Blankenbaker Lane, Louisville, KY 40207.
Refreshments available
This discussion is a community follow-up to a talk by Clint Smith to be presented via Zoom at the Filson Historical Society (co-sponsored by the Louisville Urban League) on Tuesday, September 27, at 6:00 pm – information and tickets at https://filsonhistorical.org/events/upcoming-events/
Copies of How the Word is Passed are available for purchase at the Locust Grove bookstore and other venues.
The Louisville Coalition on the History of Enslavement is a partnership of Oxmoor Farm Foundation, Farmington Historic Plantation, Riverside,The Farnsley-Moreman Landing, and Historic Locust Grove.