About this Event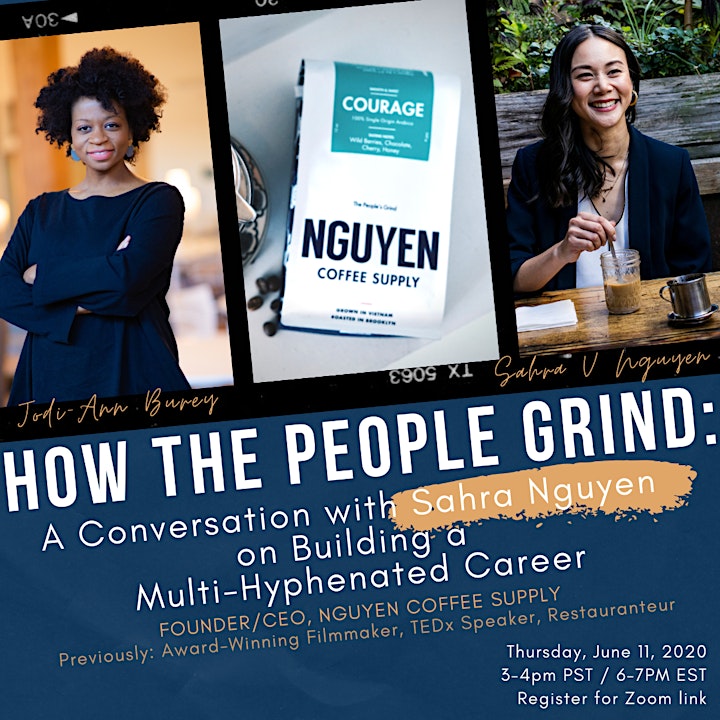 Work as we know it is being redefined and reimagined as companies and entrepreneurs learn to navigate through the COVID-19 impacts on our careers. Join Jodi-Ann Burey in a conversation with her good friend, Sahra Nguyen, Founder and CEO of Nguyen Coffee Supply. Whether you're an entrepreneur or someone climbing your industry ladder, Sahra will drop gems on how she built her dynamic multi-hyphenated career and how it prepared her for her current path as the first-ever Vietnamese-American and woman-owned importer and roaster of green coffee beans from Vietnam.
So grab a cup of coffee (or something stronger, if you'd prefer!) and settle in to hear real lessons on how to be genuine and authentic to yourself as you make decisions for your career.
About Sahra Nguyen
Sahra Nguyen is the Founder & CEO of Nguyen Coffee Supply - the first-ever Vietnamese-American & woman owned importer, supplier, and roaster of green coffee beans from Vietnam. On a mission to transform the coffee industry through diversity, inclusion, and transparency, Nguyen Coffee Supply has been featured in the Wall Street Journal, VICE, New York Magazine, New York Times, Forbes, Fortune, and honored with the 2019 StarChefs Rising Star Award. Early January 2020, Imbibe Magazine featured Sahra Nguyen as one of the #Imbibe75 - people, places, and directions that will shape the way you drink in 2020.
About Jodi-Ann Burey
Jodi-Ann Burey (she/her) has a mission is to disrupt "business as usual" to achieve social change. She is a speaker, writer, and equity advocate. Her work is grounded in centering the experiences of historically underrepresented communities and the systemic intersectional approaches needed to address inequities. Jodi-Ann holds a Masters in Public Health from the University of Michigan. She prides herself on being a cool auntie, a twist-out queen, cancer survivor, adventurer and reluctant dog owner. Jodi-Ann is currently working on her first book and podcast, Black Cancer, about women of color and healthcare.