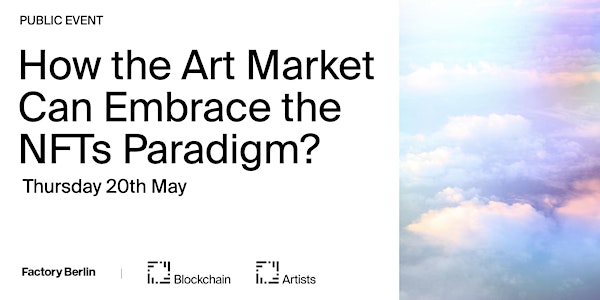 How the Art Market Can Embrace the NFTs Paradigm?
It's time to gather key actors from the blockchain, art and galleries' industries to reflect and discuss how NFTs are changing the art world
About this event
Background Information of the Event
We all have been shaken by the frenzy that followed the Beeple sale in March and are passionate about the multiplication of exhibitions on or with NFTs on the metaverse or in galleries and museums. It is time to gather key actors from the blockchain, art and galleries' industries to reflect and discuss how NFTs are changing the art world.
While the NFTs space begins to look like a new cultural movement, new community-led and decentralised models are rising. In this space, both emerging and famous artists can be found at the same level, storytelling and the individual behind the artwork are valued more than its financial value on the market, and the secondary market benefits the artist as much as the collectors. This panel will be an open discussion where we could unpack what can be changed in the current art industry thanks to NFTs, and what should be protected to avoid the common crypto and arts pitfalls.
Agenda
6.30 pm - Welcome by Diane Drubay and Daud Zulfacar
6.40 pm - Activation by Stina Gustafsson
6.50 pm- Conversation between the panellists:
George Vitale,
Albert Barqué-Duran
Jantine Derksen
Stina Gustafsson
7.45 pm - Q&A
8.00 pm - End of the session
This event is being produced and curated by both the Artists and the Blockchain Circles of Factory Berlin.
The Artists Circle is the art-driven innovation pool from Factory Berlin: we foster art innovation in the Factory Berlin, we nourish artistic cross-fertilisation amongst members and we reflect the community by celebrating art hybridism.
The Blockchain Circle is all about decentralized technologies for anyone who is engaged in this space or just interested. We deeply believe in the power of collaborations and exchanging ideas, information and contacts to build a fruitful future for us all and that needs to be done in an interdisciplinary manner that is why networking is super important to us.
Speaker & Moderator
Albert Barqué-Duran, PhD, is an artist and researcher, Lecturer in Creative Technologies and Digital Art and Honorary Research Fellow at City, University of London. He has been recently an artist in residence at Sónar+D and Factory Berlin. Albert earned his PhD and Postdoc in Cognitive Science and has been a Visiting Postgraduate Researcher at Harvard University and University of Oxford. He leads projects at the intersection of art, science and technology with the aims of: (1) finding novel formats of generating artistic and scientific knowledge; (2) reflecting about contemporary and futuristic issues and its cultural implications; (3) creating powerful experiences to push the boundaries of human perception.
Jantine Derksen is the director of TZ Connect, a hub for the Tezos blockchain in Berlin. She studied history and fine arts and holds a master in business administration. She has been active in the blockchain space for several years as she believes blockchain technology will help to redistribute power and empower the creative nature of human beings.
Diane Drubay has been working towards the transformation of museums as people and purpose-driven agents since 2007. She is the founder of We Are Museums, a community-led think tank composed of museum professionals acting for the good of people and the Planet. She is the initiator of various communities, events and programmes guiding museums through change. In her artistic practice, Diane expresses her vision of nature-infused futures through photography and video art. Diane has also co-lead the Artists Circle of Factory Berlin since 2019.
Stina Gustafsson is a curator and strategist working within arts and culture. She specialises in digital narratives and nascent technologies in the art world. She is currently working as the Creative Director for the new online exhibition platform Softspot and as a curator for the Museum of Contemporary Digital Art. In her spare time, she leads the art initiative for the Department of Decentralization/ETHBerlin, for which she has ideated, curated and produced several exhibitions, educational events and reports on the intersection of blockchain and art. During her career, she's worked with a wide variety of cultural and arts organisations and companies, such as Organisation für die Demokratisierung der Bildenden Kunst (ODBK), future research agency Future Foundation, and artists such as Arvida Bystörm, Sebastian Schmieg and Sarah Friend.
George Vitale is the founder of Synthesis Gallery, an artistic director, exhibition maker and speaker based in Berlin. His area of focus is the impact of technology and the digital on society, through the lens of art and the artist's eyes. In 2017 he founded the first VR-based art gallery called synthesis. synthesis is an immersive blend of technology and art displayed under one roof, showcasing cutting-edge experiences by new wave artists and visionaries through virtual reality. Pieces are displayed through different media: tangible and traditional art forms intermingle with Oculus and Vive headsets. In synthesis' first three years, the gallery has produced more than fifteen exhibitions of digital art in Berlin and abroad and has participated in several art festivals such as re:publica and Transmediale. 
Daud Zulfacar is one of the founders of license.rocks using decentralized technologies to build the #futureoflicensing. He formerly served as a software product manager, in a role that saw him work across several business silos. A serial entrepreneur and devoted networker, Daud has launched startups in a variety of sectors, including community, design, fashion, food and proptech. Daud is a co-founder of Factory Berlin's Blockchain Brunch, a hub for networking in the capital's nascent crypto scene, and an active supporter of Berlin Blockchain Week as well as a founding member of BerChain e.V.