How Technology Will Transform Transportation & Mobility presented by the Au...
Description
The Austin Forum on Technology & Society
in partnership with Austin Public Library
presents
How Technology Will Transform Transportation & Mobility

Austin Central Library - Event Center
710 W Cesar Chavez St, Austin, TX 78701
Thursday, November 8, 2018

5:15pm — Check-in and refreshments

5:45 pm – Doors open for seating

6:15 pm – Presentation
7:45 pm – Networking
8:15pm - Post-event networking at Trifecta on 3rd
Presenters:

Karla Taylor, City of Austin Transportation Department

Kathleen Baireuther, Ford Smart Mobility

Barry Einsig, Cisco

Jason JonMichael, City of Austin Transportation Department

Alex Sabatier, Nvidia
Transportation is crucial to virtually every aspect of society as well as our individual lives, and helps define our communities. However, while technology has brought extreme advances in areas ranging from computers and smartphones to scanners and sequencers, mobility options have remained essentially unchanged for decades—until now.
Smartphone-enabled ridesharing is in everyday usage, electric vehicles are now mass production, and we are witnessing the dawn of autonomous vehicles that will soon becoming commonplace. Other mobility services—from on-demand bicycles and scooters to 'ride-pooling' and WiFi-outfitted mass transit—are also providing better options for people, and cities, and leading companies are exploring hyperloops, flying taxis and more.
Which technologies will become commonplace, how much impact will they have on our lives, and what else is on the horizon to address transportation needs and mobility options? How will these changes transform work, communities, and society? We have a panel of Austin transportation experts ready to explain all this and more, and to answer your questions.
We welcome your participation! Please send us your questions, answers, and prognostications in advance at info@austinforum.org.

Admission to the Austin Forum is always free.
The Austin Forum accepts donations of used cell phones and smart phones at all our events. All devices will have a factory reset and be set up as new by the team at Austin Pathways' nationally-recognized "Unlocking the Connection" initiative, which will connect every public housing resident with a digital device, digital literacy training, and a free or very low-cost internet connection. Your donated phone can change lives and help close Austin's digital divide, thanks to Austin Pathways.
Thanks to Austin Public Library for their partnership.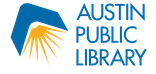 And a special thanks to all our sponsors!