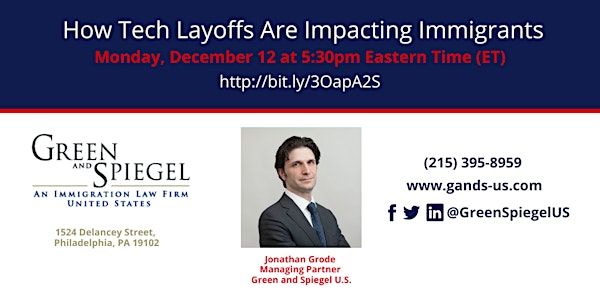 How Tech Layoffs Are Impacting Immigrants
A town hall for foreign nationals who may be affected by staff reductions. Monday, December 12 5:30pm Eastern Time (ET) Zoom
About this event
A town hall for foreign nationals who may be affected by staff reductions.
Date: Monday, December 12
Time: 5:30pm Eastern Time (ET)
Location: Zoom
It is estimated that potentially 500,000 employees have been impacted by reductions in force over the past several weeks, and this is anticipated to continue. Many employees impacted are foreign nationals who are on a work visa, whether H1-B or otherwise, who are trying to determine their options. Jonathan Grode, Practice Director and Managing Partner of Green & Spiegel, U.S. is hosting a free webinar to address frequently asked questions for foreign nationals who are impacted by staff reductions including:
o What options do I have if I have been laid off?
o How long do I have before I have to find a new job?
o Can my visa be transferred to a new employer?
o What happens to my dependents' visas if I am no longer employed?
RSVP here, and if you have specific questions you would like addressed during the webinar, please email info@gands-us.com.