Description
Have a startup focused on rewiring legacy industries? Industrial and commercial digitizsation have recently become viable with technologies that lower the barrier to making prototypes, and crowd funding now allows obtaining preorders to be more accessible. However, there are still barriers to business formation, funding, and full scale commercialization that entrepreneurs and accelerators are trying to solve.
In this session, Techstars is hosting a panel of founders, VCs and community leaders to talk about challenges in building a startup focused on rewiring legacy industries: how are startups becoming to create new markets and take on industry giants?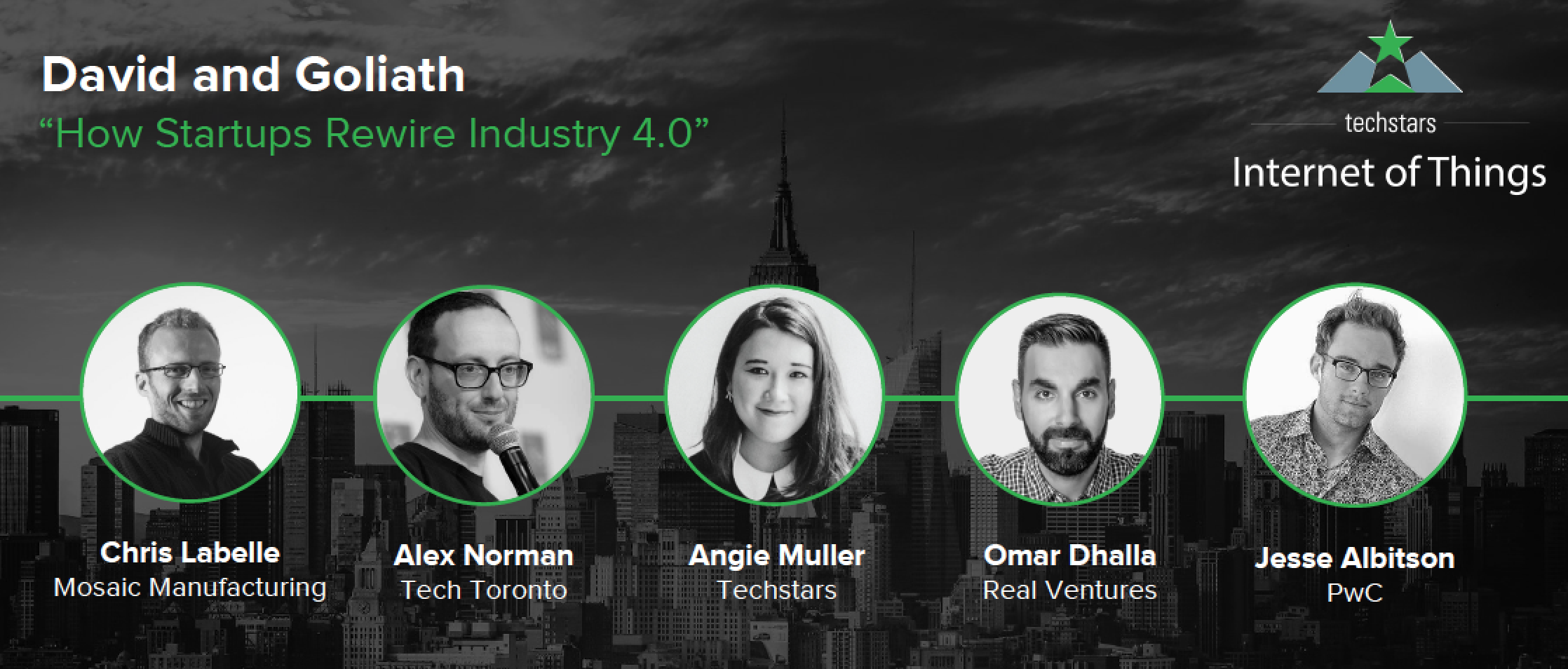 12.00pm-12.30pm Registration
12.30pm-12.45pm Introduction
12.45pm-1.30pm Panel Discussion
1.30pm Networking


CHRIS LABELLE - Co-founder, COO, Mosaic Manufacturing
Chris is the COO and one of the co-founders of Mosaic Manufacturing, a Toronto based additive manufacturing company. They are developing a hardware + software platform to 3D printing technology to create a wider variety of products. Founded in 2014, Mosaic recently completed Techstars IoT program in NYC.
OMAR DHALLA - Venture partner, Real Ventures
Omar was Real Ventures' first full-time person on the ground in Toronto/Waterloo after starting his career with Accenture and McKinsey and then moving on to co-found entrepreneurial ventures in the packaged goods and media industries. The combination of his experiences allows him to help entrepreneurs at all stages, and he is a big believer in the power of community. Omar holds an MBA from the Richard Ivey School of Business at Western Ontario and teaches in University of British Columbia's EMBA program.
ANGELIA MULLER - PM, Techstars
Angelia manages the Internet of Things program for Techstars in New York City. Techstars IoT is a brand new program in partnership with PwC, GE, SAP, Siemens and Verizon. Prior to Techstars, Angelia was the director of XRC Labs, a design focused accelerator in partnership with Parsons School of Design New York and Kurt Salmon.
ALEX NORMAN - Head of Canada, AngelList; MD, TechToronto
HomeSav which he successfully grew and sold. Currently he is the head of Canada for AngelList and managing director of TechToronto. He has worked at Lehman Brothers, McKinsey and several start-ups in the US and Europe. He has a BCom from McGill and MBA from Wharton. You can follow Alex on Twitter at @alexandernorman
Moderator: JESSE ALBISTON - Senior Conusltant, PwC Digital
Jesse is a senior consultant from PwC's Digital team, helping clients move from traditional to digital. Jesse has led internal startup pilots in the areas of AI and healthcare, championed Google-powered process redesign and partnered with TechTO in release of a report to measure our tech communities impact to the local economy. He cares deeply about our journey to unearth the value of tech across all industries. He is an avid drone videographer, VR enthusiast and budding ukulele player.
About the DMZ
The DMZ is the leading business incubator for tech startups in Canada. We help startups build great businesses by connecting them with customers, capital, experts and a community of entrepreneurs and influencers. For us, this means creating an environment where you can focus on scaling your business. We help with the rest,
About Techstars IoT
Techstars IoT is a brand new accelerator program focused on the IoT (Internet of Things) market in partnership with GE, Verizon, SAP, PwC, and Bosch. The program will bring industry leaders in the IoT market together with the most innovative emerging startups in the industry for our three month, mentorship-driven accelerator program. The Techstars IoT program is located in NYC.
Location: New York, NY United States
Dates: Jul 10, 2017 - Oct 12, 2017
Deadline to apply: Apr 9, 2017
2016 class here: techcrunch.com/2016/09/28/techstars-announces-the-first-class-for-its-new-york-based-iot-accelerator/
Learn more about Techstars IoT: http://www.techstars.com/programs/iot-program/