How Social Media, Influencer & Content Marketing Can Grow Your Business

Wednesday, April 29, 2015 from 7:00 PM to 9:00 PM (PDT)
Event Details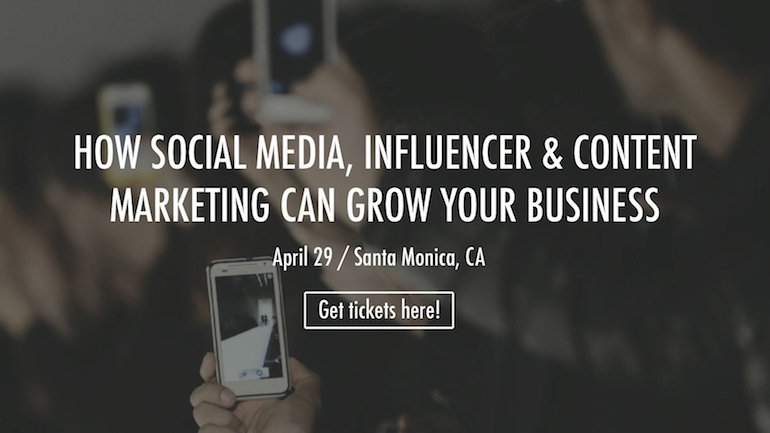 Venue sponsored by Blank Spaces Santa Monica
Food & beverages sponsored by Katie Haythorn of Thrive Home & Real Estates
You've all heard these terms before: 
Social Media Marketing

Influencer Marketing

Content Marketing
But do you really understand how to use them effectively to grow your fashion, beauty, or lifestyle business? 
Social Media - Over 70% of US online adults use some form of social media networking. (Heidi Cohen)
Content Marketing - Companies that publish new blog posts 15+ times per month (3-4 posts per week) generate five times more traffic than companies that don't blog at all. (Newscred)
Influencer Marketing - 61% of consumers make a purchase based on a blog post and 70% of consumers learn about companies through articles rather than ads (Social Media Today)
We work with businesses to develop creative and impactful ways that can grow their companies by using social media, influencer and content marketing. We could just be the ones to talk throughout this entire event but that wouldn't be as much fun. 
Instead, we want to make it a party, a party of panelists, of course!
You'll get to hear from founders & executives of fashion, beauty, and lifestyle companies who have used 1, 2, or all 3 of these marketing tactics to expand their companies.
That means what you'll get are tried and trued real-world techniques & concepts that you can customize and use for your own business! Why not learn from those who have already made it instead of trying to learn all these digital marketing strategies yourself?! 
Flow of the event: 
Check in will start at 6:30 PM. The panel will begin promptly at 7PM, which is followed by Q&A with the audience. Then, the networking hour will begin where complimentary drinks and bites will be served. 
Panelists: 
Freya Estrella - CEO & Founder of Coolhaus & Ludlows Cocktail Co. 
Katie Rosen - Co-Founder of Fab, Fit, Fun
Courtney Lear - Digital Marketing Director of Unique Vintage 
Sarah Park - Marketing & PR Manager of Miss Me Jeans 
*Tickets are non-refundable
 
Bios:
Freya Estreller is the co-founder of Coolhaus, an architecturally an architecturally themed, gourmet and all-natural dessert company made famous by its ice cream sandwiches. Launched from a converted postal truck in 2009 at the Coachella Valley Music Festival, COOLHAUS now operates 12 gourmet mobile units in CA/NY/TX, 2 brick and mortars in Culver City & Old Town Pasadena, and their CPG line is sold in over 2,500 stores like Whole Foods, Sprouts, and FreshDirect, in 45+ states and growing. Now, she's taken on the cocktail world by co-founding a Ludlows Cocktail Co, a start-up dedicated to producing the best possible ready-to-drink cocktail creations with our team of food scientists and mixologists
Katie Kitchens co-founded Fab Fit Fun in 2010, an award-winning multi-platform lifestyle brand that delivers readers the latest and greatest in fitness, nutrition, wellness, beauty and fashion — everything a woman needs to feel good from the inside out. Katie functions as Editor In Chief and overseas marketing, social media, sales, business development, and PR. Today, Fab Fit Fun continues to be one of the web's fastest-growing daily e-mail newsletters and an influential force in social media with half a million fans.
Courtney Lear is the Digital Marketing Director of Unique Vintage, a Southern California based online retailer that offers vintage-inspired fashion with a modern twist. Specializing in retro clothing since 2003, the brand is known for its attention to mid-century sensibilities and their appreciation for the Atomic era. With over 5 years of digital marketing experience, Courtney is responsible for developing and growing the Unique Vintage brand through multichannel online marketing campaigns, spanning from social media, affiliate & influencer campaigns, email, & SEO.
Sarah Park is a Southern California native with a love for all things fashion since she can remember. She started working for Miss Me five years ago and has worked her way up to become the Marketing and PR Manager. Sarah oversees marketing, e-commerce, social media, and public relations for the brand. Previously, Sarah worked for Lucky Magazine and Footwear News in their Advertising Department.
Sponsors
Have questions about How Social Media, Influencer & Content Marketing Can Grow Your Business?
Contact FAB Counsel
When & Where

Blankspaces
1450 2nd St
Santa Monica, CA, CA 90013


Wednesday, April 29, 2015 from 7:00 PM to 9:00 PM (PDT)
Add to my calendar
Organizer
FAB Counsel
FAB Counsel stands for Fashion and Business Counsel. Our mission is to provide you with the knowledge and tools you need to create a profitable fashion business that you also happen to love! We believe that everyone has the ability to live the life they want to live and it's our job to help you get there. We do this by providing events, online courses, consulting, and free blog and video resources designed to help you create a profitable and rewarding fashion business! 
How Social Media, Influencer & Content Marketing Can Grow Your Business