Description
Diversity in academia is in the public spotlight. Yet, despite some important strides for women in academic science careers, many workplaces and their cultures discriminate against women and can endanger them – professionally, psychologically, and even physically. Recent findings have played an important role in shaping new policies at field sites, universities, professional organizations, and funding agencies. Rutherford and Arreola will summarize this work and share suggestions from the evidence and from the recent NASEM (The National Academies of Sciences, Engineering, and Medicine) #ScienceToo report for improving the academic climate for women, sexual minorities, nonbinary persons, and people of color. The responsibility of senior researchers, advisors, and university leadership towards young women entering academia will be emphasized.
Veronica I. Arreola, MPS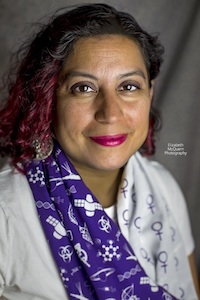 Veronica I. Arreola is the director for the University of Illinois at Chicago (UIC) Latin@s Gaining Access to Networks for Advancement in Science program. In her previous role as director of the UIC Women in Science and Engineering (WISE) program, WISE was recognized with a Presidential Award for Excellence in Science, Mathematics and Engineering Mentoring.
Arreola is a respected member of the local and national feminist community. Her writing has been featured in the New York Times, USA Today, Bitch Media, RH Reality Check, NPR.org and the Guardian's No Comment is Free. Media appearances include being highlighted in Ms. Magazine, an Emmy award-winning feature on WGN-TV, NBC Nightly News, Chicago Tribune, Chicago Sun-Times, WGN-Radio, and MSNBC. Arreola is a regular guest on Vocalo's "The Morning AMp."
Arreola's honors include being named Woman of the Year by the UIC Chancellor's Committee on the Status of Women, member of the Chicago Foundation for Women's Founders Award class, a graduate of the Women's Media Center's Progressive Women's Voices program, a Chicago Foundation for Women's Impact Award, Latinos in Social Media (LATiSM) Top Bloguera, Leadership Illinois and New Leaders Council 40 under 40 Leadership Award.
Julienne Rutherford, PhD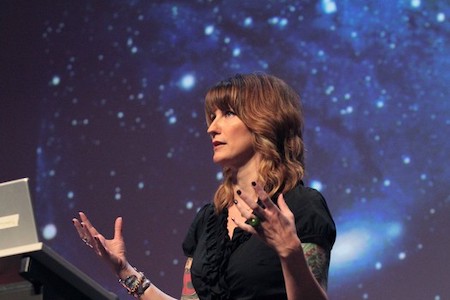 Dr. Rutherford is an Associate Professor of Women, Children, and Family Health Science in the College of Nursing at the University of Illinois at Chicago (UIC), serving masters level midwifery and women's health nurse practitioner students as well as PhD students. Dr. Rutherford's current project looks to address how the period of prenatal development impacts reproductive development and function into adulthood, and that of subsequent generations.
Additionally, Dr. Rutherford is part of a four-woman team that published the groundbreaking SAFE study about sexual harassment and assault in the field sciences, with the first paper published in 2014 and the follow-up published in 2017. She has been a Robert Wood Johnson Future of Nursing mentor, and she is the recipient of many awards including the UIC Researcher of the Year Rising Star in Clinical Sciences, American Society of Primatologists Legacy Award, National Academy of Science Kavli Foundation Fellow, the American College of Nurse Midwives Excellence in Teaching Award, and an NIH Loan Repayment Program Award.
Shelly Wilson
Shelly Wilson is the Founder/CEO at SRW Sports Marketing & Digital Media, LLC, a marketing platform dedicated to promoting the value of women in sports. She studied Biology/Communications at Augustana College, Rock Island, IL and brings over 15 years of marketing expertise and experiences from big sports brands and private institutions.
Shelly is passionate about lending her voice and advocating for women and gender equity and equality. She has served in leadership and advisory roles with organizations such as Girls in The Game, CASA of Will County, and Lean In Women of Color. During her most recent Speaker Series, "Combatting the Negative Rhetoric of Black Women in Sports", she was recognized as an emerging new voice in women's sports. She also served as moderator for Lean In Illinois' "Latina Equal Pay Day" 2018 campaign.
Event Details
Arrive at 5:30 pm to enjoy food and drinks before the program (free with ticket purchase). The program runs from 6:00 pm to 7:30 pm. This program is open to the public.
Stick around after the program for discussion, networking, and drinks!
Students with valid ID are FREE. Please email us (info@c2st.org) to register for your complimentary ticket.
Parking and Transportation:
Discounted parking is available to attendees at the 202 E Huron parking garage. Ask at the C2ST registration table, and you can get a ticket to exit the garage at a discounted rate.
303 E. Superior St. is easily accessible using the Red Line or the 3, 66, 120, 121, and 157 buses (as well as others a few blocks away). For directions using public transportation visit www.transitchicago.com.
Notice: As a guest of Chicago Council on Science and Technology (C2ST), you agree to be photographed, videotaped, or filmed and grant C2ST permission to put the finished footage/photography to any uses that it may deem proper including marketing, advertising (print, radio, and television) and PR-related activities.
This program is presented in partnership with: