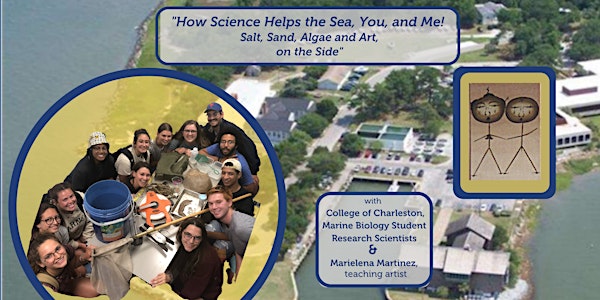 How Science Helps the Sea, You & Me! Salt, Sand, Algae and Art, on the Side
FREE Cultivate Science + Art at the DNR Outdoor Classroom with the College of Charleston Marine Biology Summer Research Students
Date and time
Tuesday, July 20, 2021 · 4:30 - 7:30pm EDT
Location
DNR Outdoor Classroom 412-418 Fort Johnson Road Charleston, SC 29412
Refund Policy
Contact the organizer to request a refund.
Eventbrite's fee is nonrefundable.
About this event
We hope you can join us, in-person or virtually, for a lively mix of short science stories, art making, discussions and hands-on activities along the marsh. This event will be held at the Department of Natural Resources Outdoor Classroom at the Fort Johnson Marine Labs on James Island. Food will be provided for in-person participants by our friends Destiny Community Cafe.
Thirteen College of Charleston student researchers will introduce the scientific problems they are investigating this summer. Their well crafted science pitches, props, samples and tools are sure to fascinate all, and provide a great glimpse into the marine science happening right here in Charleston. Everyone will have the opportunity to enjoy "lots of salt, sand, algae, and art on the side" with hands-on activities along the tidal marsh, an invertebrate touch tank, sandpainting and community science chats. Dinner will be provided for in-person participants by our friends at Destiny Community Cafe, South Carolina's first "pay-what-you-can" cafe.
In-person space is limited, and advance registration is required. We are excited to also offer live-streaming for the event! We encourage you to organize your own pods and register to join us virtually. Following registration for virtual participation, you will receive an email notification of art supplies needed and pickup options. This event is free and open to all ages. NO EXPERIENCE REQUIRED!
Starring:
Sophie Spiegel
Distribution and human consumption risk analysis of edible seaweeds in Charleston, South Carolina
SERVING UP SEAWEED: A CULINARY SOLUTION TO CLIMATE CHANGE?
Christian Simmons
Biomechanics of tooth puncture in sharks and moray eels
THE BITE FIGHT CLUB: SHARKS VS MORAY EELS!
Olivia Suarez-Cudd
Microbiomes of intertidal macroalgae from 'Ewa Beach, Hawai'i
SIMPLY SEAWEED BY THE SEASHORE
Adriana Apintiloaiei
Role of Algae in Microplastic Entrapment in Stormwater Ponds
THE PURELY PLASTIC PROBLEM
Elle Pestorius
Contrasting the physiology and life cycle stages of native and invasive algae
BATTLE OF THE SEAWEEDS!
Emily Dombrowski
Temperature tolerance and physiology of the horseshoe crab Limulus polyphemus
DRAWING BLOOD MAKES US ALL CRABBY
Charles Taibi
Sediment content associated with ecotones of Spartina alterniflora
PLUFF MUD: MY NEW SKIN CARE ROUTINE
Aubrey Anthony
Salinity stress and amphibian developmental ecology
DON'T DRINK THE SALTY WATER!
Zoe Munson
Effects of Acidification on the Recovery of Pinching Force following Crustacean Molt
ONE SIZE DOES NOT FIT ALL
Jake Kuenzli
How sponges modify or produce organic compounds and what they are capable of
SPONGES, MORE THAN JUST A WAY TO CLEAN DISHES
Regan Honeycutt
Carryover effects of salinity exposure in amphibian tadpoles
A CANARY IN A COAL MINE?
Joelle Reich
Biosignature Volatiles of Extremophilic Life
THE (NEW) SEARCH FOR LIFE ON MARS
Timara Vereen
Effects of the Eastern Mud Snail on the Community Structure of Benthic Microalgae
FIGHT OF THE CENTURY: MUD VS. SNAILS!
About the organizer
CULTIVATE SciArt started amongst a group of scientists and artists – friends who appreciated the beauty and unity found within these fields. As teachers and lifelong learners, we wanted to share our passion with others. We believe learning is not something confined to a classroom or an age group. It is something that is fun and meant to be shared amongst new friends and old. Through Cultivate Workshops we seek to make knowledge and creativity more accessible to the public. We provide social opportunities for people to explore their own artistic talents while learning how science sheds light on the world, the individual and our community.