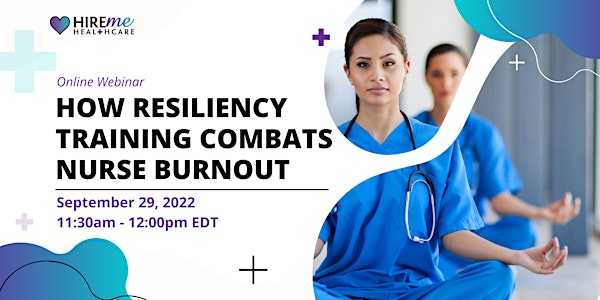 How Resiliency Training Combats Nurse Burnout
Burnout rates among nurses can be lowered. Join our expert panelists to discuss how resiliency training can play a role.
About this event
Over 11,000 nurses completed an ANA survey in January 2022. Among the findings: nearly 1 in 4 nurses (23%) reported they intend to leave their position; and an additional 29% said they would consider maybe leaving their position.
Join our expert panelists to discuss the role resiliency training plays in lowering these numbers. In this 30 minute discussion they'll answer questions about innovative ways to build resiliency in the nurse workforce, what role various actors (leadership, job seekers, technology) play in facilitating fit in the workplace, and they'll share a practical way nurses can gain access to resiliency training.