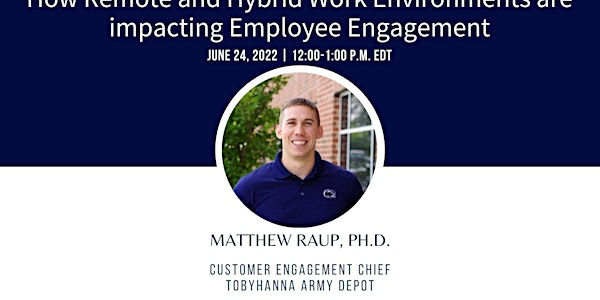 How Remote and Hybrid Work Environments Are Impacting Employee Engagement
Webinar 26: How Remote and Hybrid Work Environments are impacting Employee Engagement
About this event
Overview
Many organizations have had to leverage telework for the past two years due to the COVID pandemic. Many organizations have been operating reactively, waiting for the pandemic to conclude so that things can go back to "normal". While it is already clear teleworking will be utilized more from now on, what will the impact of teleworking and hybrid telework environments be on employee engagement. This webinar will discuss the presenter's experience supervising a remote hybrid team and how it has impacted employee engagement.
Objectives
Understand the common factors that influence employee engagement
Understand the benefits of employee engagement
Reflect on how teleworking changes caused by the pandemic can have lasting impact on employee engagement
Target Audience
Managers and supervisors who are responsible for managing staff who telework either full-time or part-time. Employees who telework either full-time or part-time.
Outline
What is employee engagement?
Why is employee engagement important?
What are factors that influence employee engagement?
How do today's telework and hybrid telework environments impact employee engagement?
Short Bio of the Presenter
Received PhD in Workforce Education from Penn State in 2020. Currently work for the Army as the Chief of the Customer Service Branch at Tobyhanna Army Depot in Tobyhanna Pennsylvania. Have 18 years of IT leadership experience in education and federal industries.