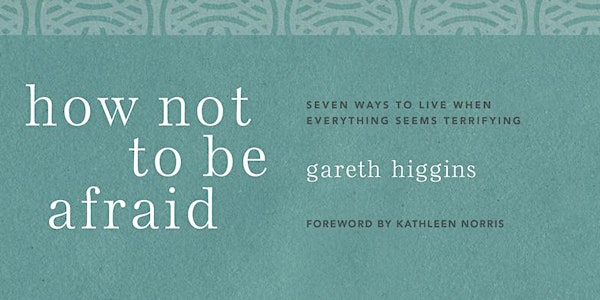 How Not to be Afraid - with Gareth Higgins
An evening in Belfast with Gareth Higgins on his new book "How Not to be Afraid"
When and where
Location
Accidental Theatre 12-13 Shaftesbury Square Belfast BT2 7DB United Kingdom
About this event
Join beloved writer and story activist Gareth Higgins for a conversation about spirituality, society, courage, creativity, and the common good.
The world seems terrifying - each of us has experienced stories of fear, uncertainty, and pain, and many of us feel unsure what to do in response to what seem like overwhelming odds.
In How Not to be Afraid, Irish storyteller, activist, and creative convenor Gareth Higgins explores seven common fears, inviting us to change the course of our stories through seven habits of hope and action for the common good.
How Not to be Afraid is ripe for the moment in which we find ourselves. If you're feeling afraid, and want to consider an option beyond fight, flight, or freeze - an alternative that might actually transform our experience of fear into something better, come on in. You're not alone.
Gareth Higgins writes and speaks about the power of storytelling to shape our lives and world, peace and making justice, and how to take life seriously without believing your own propaganda. He has been involved in peace-building and violence reduction in northern Ireland and helping address the legacy of conflict, and helped found the Wild Goose, New Story and Movies & Meaning festivals. Gareth leads retreats in the US and Ireland; and he founded The Porch Magazine.
Brian McLaren says Gareth's new book How Not to be Afraid is "a beautiful book", Kathleen Norris says it's "a necessary book", and Micky ScottBey Jones says it's "a much-needed resource for skill-building through our fear and trauma, so that we might create the belonging and communities we desire". Nadia Bolz-Weber says "I totally trust Gareth Higgins when he writes about his own fear and how it's actually possible to transform it into something powerful, something capable of healing us and the world." Pádraig Ó Tuama says "Gareth Higgins is a friend. This book is too."
We're delighted to welcome Gareth for an evening of storytelling and conversation about courage, creativity, and community, based on the ideas in his beloved new book, and decades of experience in northern Ireland, the US, and elsewhere seeking to nurture communities who learn and share a better story.
Tickets are free, and everyone is welcome, but advance registration is required. Copies of "How Not to be Afraid" will be available for sale at the event.
"All I can say for now is WOW! It's as if Spirit handed me your book in answer to my persistent, ongoing plea, HOW-HOW-HOW (to heal)? Thank you. I'm recommending your book to practically everyone." - Tracy Rittmueller, Founding Director, Lyricality