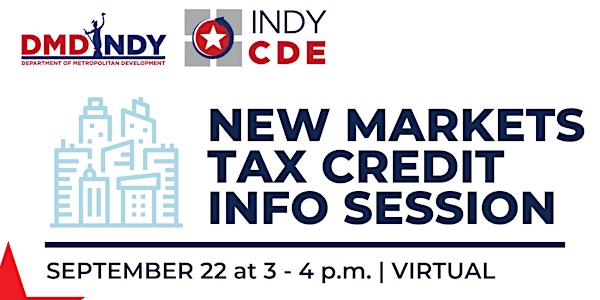 How New Markets Tax Credits Can Help Your Organization
Join Indy CDE to learn about the benefits New Markets Tax Credits can generate for your organization.
About this event
EVENT DESCRIPTION: The NMTC Program is a federal program authorized under the Community Renewal and Tax Relief Act of 2000. The program is jointly administered by the Department of Treasury's CDFI Fund and the Internal Revenue Service. Historically, low-income communities attract few investment dollars, as evidenced by vacant commercial properties, outdated manufacturing facilities, and inadequate access to education and healthcare service providers. The NMTC program aims to increase investment in low-income communities by attracting private investment capital to fund transformative and catalytic projects. Organizations ranging from growing small businesses to nonprofits have leveraged NMTCs.
In this webinar, you will learn the in's and out's of New Markets Tax Credits and:
When you should use NMTC
What are tangible benefits of using NMTC for your project
Examples of how organizations use New Markets Tax Credits
Additional ways Indy CDE/ City can help organizations, including examples of past projects and how NMTC supported them
How to get started & Indy CDE deadlines and details
Indy CDE is accepting intake forms for this year's application round, and the deadline is October 14th, 2022.
About Indy CDE
The Indianapolis Redevelopment CDE LLC (Indy CDE) was formed in 2009 and administers the New Markets Tax Credit (NMTC) Program on behalf of the City of Indianapolis. Indy CDE is certified by the U.S. Department of Treasury as a community development entity (CDE) working in collaboration with the City of Indianapolis' Department of Metropolitan Development to use New Markets Tax Credits (NMTCs) to support transformative projects that address blight, high unemployment, and poverty in the city's most distressed neighborhoods.
Since 2010, Indy CDE has awarded over $140 million dollars in tax credits to more than 14 qualifying entities. These projects have helped create accessible jobs in low-income communities, helped build pathways to high quality jobs, provided key services to Indianapolis' most at-risk populations, and have advanced the vibrancy of the city.
Indy CDE engages with community organizations year-round to identify impactful projects in Indianapolis eligible to receive a New Markets Tax Credits award.
About The City of Indianapolis Department of Metropolitan Development
The Department of Metropolitan Development (DMD) works to shape the city's identity by strengthening people and places, building upon our history, and fostering visionary development. The DMD team envisions Indianapolis as a growing, vibrant, and beautiful city where people and businesses thrive in an inclusive, world-class community. Divisions within DMD include Community Investments, Brownfield Redevelopment, Economic Incentives, Homeless Policy, Planning, And Housing Development, Land And Real Estate, Indianapolis Historic Preservation Commission, And Planning & Urban Design