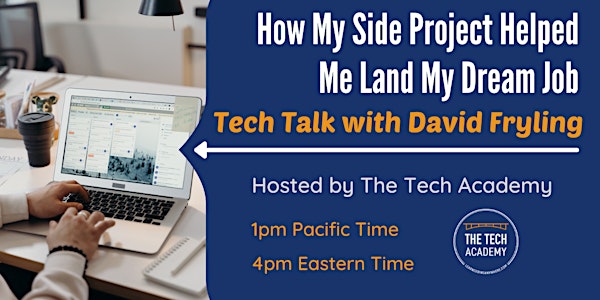 How My Side Project Helped Me Land My Dream Job: Tech Talk w/ David Fryling
Join us for career development and networking every Friday from 1-2pm PT
Date and time
Friday, August 27, 2021 · 1 - 2pm PDT
About this event
This week we invited David Fryling to talk about how his side project helped him land his dream job after graduating from The Tech Academy!
David had worked as a school counselor for the past 7 years. A few years ago, he started brainstorming web apps that could solve real-world problems facing his students and colleagues. Instead of waiting for someone else to solve these problems, David decided to enroll in The Tech Academy and learn how to build one of his web app ideas himself. He quickly fell in love with coding in the process.
David is going to share how he tied his side project to his studies in the boot camp, allowing him to update and iterate. Come learn some ideas for how you can apply what you've learned in your boot camp to build a side project that will really impress prospective employers.
Join us on August 27th, 2021 at 1pm Pacific Time, 4pm Eastern Time in this Google Meet Room: https://meet.google.com/erw-giij-ktv
Can't make it live? Watch the recording on our YouTube Channel: https://bit.ly/TTA-techtalks
About the organizer
​The Tech Academy is a technology school that trains students in computer programming and web development through coding boot camps. We also deliver advanced developer training classes. As the winner of the 2018-2019 Best Coding Boot Camp award, The Tech Academy is standing by to teach you what you need to know to succeed in the tech industry! There are Tech Academy campuses in Portland, Denver, Seattle, and Salt Lake City. Find out more at: learncodinganywhere.com. Check out our free classes below: