Description
All y'all just use that form along with 650 li'l steps.

Remember.

If millionaire Mike Arrington, TechCrunch founder, can't get fast approval for an Amex. What do you think your hopes are?!?!

Read Mike Arrington's case on Quora
Google 'Larry Chiang'

Oh, you want to dispute something via email to Amex.

no no.

You gotta draft a letter and fax it to Amex to their secret 954 facimile number.
Amex plays by the FCRA FCBA rules.

You should know that I use FCRA rules to help you. OK, here is the secret 954-384-3312
Support the "larry chiang Electronic Credit Score" Protection Bill

Want a full size image of the form that is the event's teaser?!
http://www.facebook.com/photo.php?fbid=10152761212685727&set=a.10150751011585727.722339.811315726
Organizer of How Larry Chiang Signs Up More People Than Amex (x20) at SXSW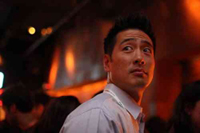 Asse9 stands for Austin Secret Society of Entrepreneurs 9. It means if you're not striving to be entrepreneurial, you're asinine.
No we don't have a website or else it would not be very secret now would it
All we have is a hashtag that we rarely use '#asse9' but what we do have is a huge rolodex.
Brands we love: