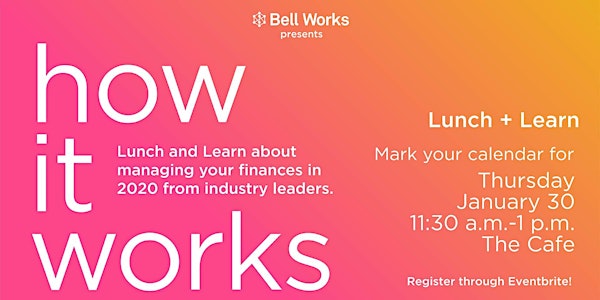 How it Works
Enjoy your lunch over a panel of talented speakers to get the scoop on how it works!
When and where
Location
Bell Works 101 Crawfords Corner Road Holmdel, NJ 07733
About this event
Join us in The Cafe at 11:30am-1:00pm on Thurs., January 30 to enjoy your lunch listening to a panel of industry professionals and get the scoop on how it works! 
Lunch and Learn from industry professionals how to budget and manage your finances for both personal and professional use.
Speakers:
Keith Owitz, Financial Advisor for Edward Jones (Bell Works)
Pam Perskie, Partner Advisor for AdvicePeriod
Elena Ladygina, CFP®, Partner, Withum Wealth Management
John Marchetti, Managing Partner, Monarch Benefit Advisors (Bell Works)
Kapil Rathi, Capital Market Executive in Derivatives Trading, Crypto and Blockchain (Bell Works)
Panel moderated by Jamie Sztoser and Marissa Klein of Choice Associates.