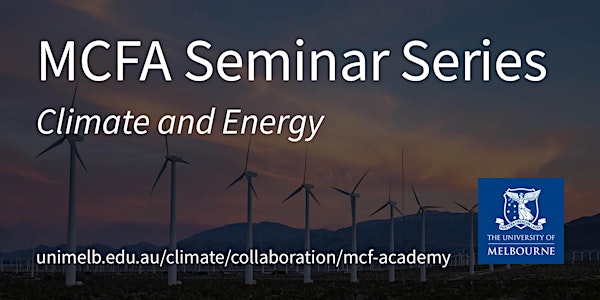 How is the German Energiewende going? Insights from the Open Energy Tracker
(In Person) Keeping track of the energy transition with Open Energy Tracker
When and where
Location
Manhari Room (#7212) @ Melbourne Connect Level 7 700 Swanston Street Carlton, VIC 3053 Australia
About this event
Germany is planning to re-vitalize its Energiewende. Already in their coalition agreement of November 2021, the parties of the "traffic light" coalition set themselves a range of ambitious targets for the German energy sector. The German government has added several specific goals, especially for the increased use of renewable energy sources and various sector coupling options such as heat pumps, electric vehicles, and green hydrogen. In this presentation, I will give an overview of the most important targets, recent trends, and the need to accelerate the transition. The Open Energy Tracker is an open data platform we created at the German Institute for Economic Research (DIW Berlin) to keep track of the energy transition. Most indicators show a large gap between the current status and government targets for 2030. This gap is particularly large for installed electrolysis capacity, the stock of battery-electric cars, and public charging points. I also compare the current pace of the transition to what is needed to reach national targets, and how the government's targets compare with the results from long-term decarbonization scenario studies.
The Open Energy Tracker can be found here: https://openenergytracker.org/en/
Dr Wolf-Peter Schill is the deputy head of the Department Energy, Transportation, Environment at the German Institute for Economic Research (DIW Berlin) and leads the research area "Transformation of the Energy Economy". His research focuses on renewable energy integration, energy storage, electric mobility, and other sector coupling strategies. His methodological focus is on open-source power sector modeling. At DIW Berlin, he works in various research projects with grants from German federal ministries and the European Commission.