How Global Institutions Rule the World: Book Talk with Prof. Josep Colomer

Monday, March 23, 2015 from 5:30 PM to 7:00 PM (EDT)
Event Details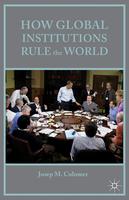 Does world government actually exist? Are the current global institutions efficient in making decisions? Can they be compatible with basic democratic principles? This book holds that, indeed, world government does exist. How Global Institutions Rule the World demonstrates how the world is actually ruled by a few dozen global bureaus, organizations, funds, banks, courts and self-appointed directorates. They use different representation, voting, and organizational formulas, yet the variety of arrangements of the global institutions is not an indicator of weak capacity of decision-making or of policy enforcement. Instead, it reflects the extensive scope of their activities and the complexity of the global agenda of issues. With the appropriate institutional design, global government needs to be made compatible with a notion of accountable democratic rule.
Moderated by Prof. George Shambaugh
Light Refreshments Served 
---
 "In this thoughtful and thought-provoking book, Josep Colomer demonstrates that effective institutions of global governance exist. A single world government is neither possible nor desirable. But it is also unnecessary. Instead, a number of effective institutions already carry out essential functions of world governance. Moreover, in spite of worries about "democratic deficits", those institutions are able to meet the essential requirements of an effective democracy: representation, competence, consensus, and accountability." - Martin Wolf, Chief Economist, Financial Times, UK
---
Dr. Josep M. Colomer is a Senior Fellow at the M.A. Program in Democracy and Governance and an adjunct and research professor at the Government Department since. Dr. Colomer is the author of 23 books and editor of 7 books and author of about 200 academic articles and book chapters. He was a founding member of the Spanish Political Science Association (AECPA), is a life member of the American Political Science Association (APSA), an elected member of the Academy of Europe, and a member of the American Association for the Advancement of Science. He has obtained the Anagrama Award for essays for Game Theory and the Transition to Democracy (Edward Elgar 1995), the AECPA's biannual prize to the best book for Political Institutions: Democracy and Social Choice (Oxford U.P. 2001); and the Prat de la Riba Award of the Catalan Academy for the best book in philosophy and the social sciences in a period of five years for Great Empires, Small Nations: The uncertain future of the sovereign state (Routledge 2007).
Dr. George E. Shambaugh, IV is Associate Professor of International Affairs and Government in the Edmund A. Walsh School of Foreign Service. Dr. Shambaugh received a B.A. in Government and Physics from Oberlin College; and a M.I.A. in International Affairs, and a M.Phil. and Ph.D. in Political Science from Columbia University. His research and teaching focus on topics of international politics, foreign policy, international political economy, and the environment. He is the author of States, Firms, and Power: Successful Sanctions in US Foreign Policy, co-author of The Art of Policymaking: Tools, Techniques, and Processes in the Modern Executive Branch, co-editor of Anarchy and the Environment: The International Politics of Common Pool Resources, and co-editor of Taking Sides: Clashing Views on Controversial Issues in American Foreign Policy. 


When & Where

Mortara Center for International Studies
3600 N Street Northwest
Washington, DC 20007


Monday, March 23, 2015 from 5:30 PM to 7:00 PM (EDT)
Add to my calendar
Organizer
Practitioners and scholars in fields as diverse as public policy, international development, and security studies increasingly recognize that successful programs in their fields require effective and accountable governance. The Democracy and Governance Program seeks to understand the foundations of democratic and responsive government, how policymakers can create and implement policies to achieve these objectives, and prepares students for careers in democracy assistance and governance reform.