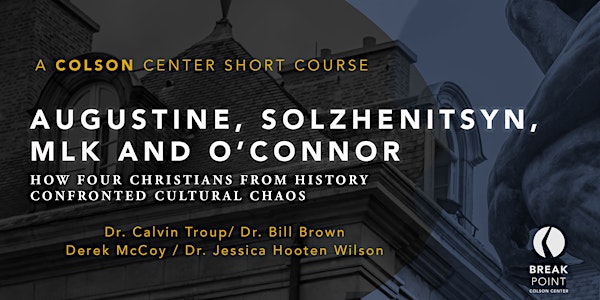 How Four Christians from History Confronted Cultural Chaos
These are four unique Christians who thrived in their challenging culture.
Refund Policy
Contact the organizer to request a refund.
Eventbrite's fee is nonrefundable.
About this event
Augustine, Solzhenitsyn, MLK and O'Connor: How Four Christians from History Confronted Cultural Chaos
October 20, 27; November 10, 17| 8pm – 9:30pm ET
With Dr. Calvin Troup, Dr. Bill Brown, Derek McCoy, and Dr. Jessica Hooten Wilson
There's an old Chinese curse which supposedly says "May you live in interesting times". Well, we've probably all had enough of the unprecedented times.
The truth is, we aren't the first followers of Christ forced to navigate a dizzying array of global, political, cultural, and health challenges. Not only are we part of what Hebrews calls "the great cloud of witnesses," we have much to learn from their examples and their failures as we, too, journey to what Scripture calls that "better city."
In our next short course, the Colson Center is excited to present the lives of four major Christians, each of whom dealt with their own cultural challenges that, in many ways, mirror ours. Each of these individuals used their own combination of giftings, convictions, and platforms to join God in the work of restoring all things.
In this course, you will learn from these models:
October 20: Augustine and the City of God: The Christian When Society is Collapsing, with Dr. Calvin Troup, President of Geneva College. Augustine asks "Who is a Christian to be?" -- when the ballasts of familiar institutions seem to be crumbling? When human government falls short? Join Dr. Troup for an exploration of where we stand as Christians in contemporary culture.
October 27: Solzhenitsyn and The Human Condition: Understanding What's Wrong with the World, with Dr. Bill Brown, our Senior Fellow of Worldview and Culture, to talk about human nature, good and evil, and why the world is both broken and eminently worthy of redemption.
November 10: Flannery O'Connor and the Stories We Tell: How Christians Can Shape the Cultural Imagination. Join Dr. Jessica Hooten Wilson from University of Dallas to discuss how our imaginations are transformed by stories, and particularly stories as raw and real as O'Connor's, stories that hold joy, anguish, and hope in an honest tension.
November 17: Martin Luther King Jr.: How Christians Can Love their Neighbors, with Derek McCoy from Summit Ministries. In a time when his work is more relevant than ever, explore how MLK was a powerful agent of justice and reconciliation.
For each of these individuals, their convictions and habits as followers of Christ ultimately made them instruments of change. Moreover, their Christian paradigm shaped their fundamental relationships: to God, themselves, and others. Because of their faith, they knew people matter, ideas matter, and reconciliation with God and one another is our pathway to growth.
As Christians, our perspective must also be tempered by the knowledge of the larger Story that we are part of. The truth is this: Christ is risen! Christ is Lord! Christ is making all things new. Sign up here and join us all four sessions!
Each short course session begins at 8 pm ET, and goes for an hour-and-a-half. A half-hour Q&A session is included. And if you miss a session, don't worry: We'll send you a link so you can watch a recording at your convenience. This short course is great for individuals, families, small groups, or even whole churches.
Not able to attend the live webinar programs or want to listen to the program again? For your convenience, we will also provide links to recordings of the live webinar programs in follow-up emails sent within 24-48 hours following the live webinar programs. We encourage you to share these recordings with friends, family, small groups, or churches. We simply ask that the recordings not be posted to social media or other outlets such as YouTube.