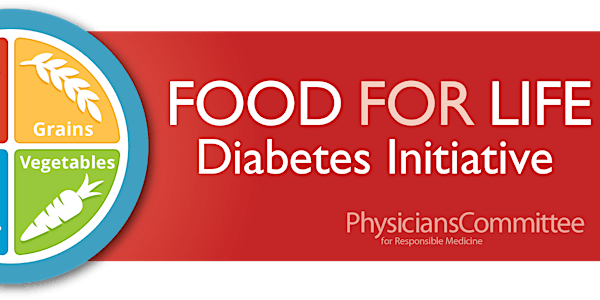 How Foods Fight Diabetes
Join Susannah for this introductory class about How Foods Fight Diabetes! Based on the Physicians Committee for Responsible Medicine.
By Tri-State FFL Plant-Based Nutrition
Date and time
Saturday, April 22 · 11am - 1pm PDT
About this event
How Foods Fight Diabetes- The road to diabetes does not have to be a one-way street. There is reason for hope! People who eat plant-based meals are less likely to ever develop diabetes, and for those who have diabetes, plant-based meals can help to improve blood sugar levels and prevent complications.
In this 90 minute class attendees will learn the benefits of a whole food plant based lifestyle and its surprising effect on our health and longevity. Each class includes * NEW RECIPES* live cooking demonstrations with Susannah's in depth knowledge on plant-based nutrition, educating, and inspiring how to prevent and reverse chronic diseases along with useful handouts, recipes, and Q & A, all in a supportive online group setting.
Based on the Power Of Food For Diabetes Prevention and Treatment Program from The Physicians Committee For Responsible Medicine
Dietary choices have a surprisingly effect on our health. Learn that health-promoting foods, recipes, and meals can be easy, convenient and tastes great! Each class includes live food demos and hands-on cooking with Stefanie's in-depth food prep knowledge, Q&A, recipes, educational materials all in a supportive group.
The intended audience for this program is people with diabetes, prediabetes (defined below), a family history or risk factors for developing diabetes, and their adult family members. It is also designed to introduce health care professionals to the basics of plant-based nutrition for preventing and treating diabetes.
About the organizer
Healthy eating has always been a passion for Susannah. While raising her three sons she made sure that they always had an abundance of fruits and vegetables.
After watching family members become ill with heart disease, Susannah's husband, sons, and she adopted a plant-based lifestyle. As a life-long learner and teacher, it was a natural transition for Susannah to become a Food for Life instructor.
Susannah has completed the certificate in Plant Based Nutrition from the T. Collin Campbell Foundation through eCornell. She is also a graduate of the Forks over Knives Rouxbe Cooking Class. 
Susannah wants to make a difference in the lives of children and adults through a plant-based lifestyle.
Serving cities and surrounding areas of Southern Indiana, Evansville, Rockport, Owensboro, Henderson, and western Kentucky