July 7, 2021, marks four years since the Treaty on the Prohibition of Nuclear Weapons was first adopted by the global community.
About this event
Join us to celebrate the fourth birthday of the Treaty on the Prohibition of Nuclear Weapons.
Since it was first negotiated in 2017, 54 countries have ratified the Treaty - taking all the steps necessary to be bound by it in international law. More than 80 countries have signed it, and are working towards ratification - just this week we had good news from Chile, as the country moves one step closer to full ratification.
The UK remains stubbornly unmoved by a strong international consensus that nuclear weapons are unjustifiable in all circumstances, and must be abolished. But around the world, progress is being made - through divestment, policy changes, recognition of the harm done to humankind and to our planet, and ongoing action by ordinary people like us in every country - to create a nuclear-free future.
Join us on 7 July at 7pm to celebrate all the progress that has been made so far - to hear stories from activists who are leading the change, and to learn more about how the Nuclear Ban is making a difference in countries around the world.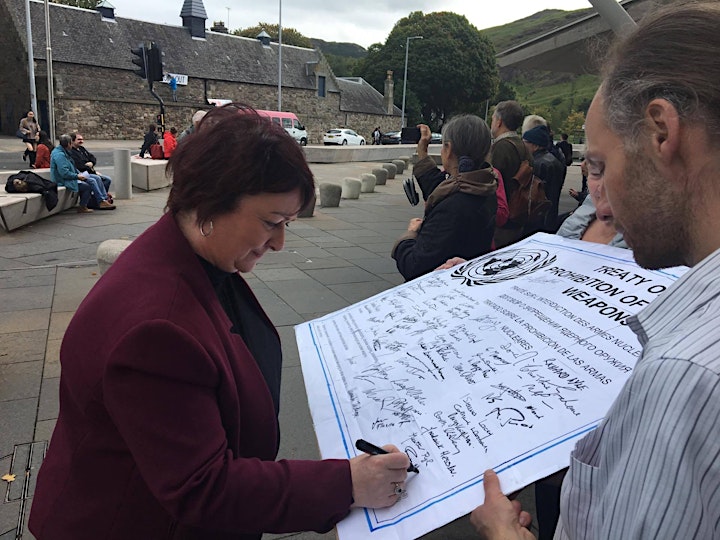 (SNP MSP Rona Mackay pledges her support for the Treaty on the Prohibition of Nuclear Weapons in a ceremony outside Holyrood in 2017. Scotland cannot enter into international Treaties on its own behalf while we remain part of the United Kingdom - and Scottish opposition to nuclear weapons is not respected by the UK Government.)