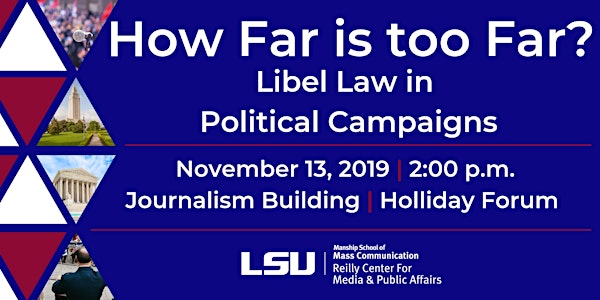 How Far is Too Far? Libel Law in Political Campaigns
Examination of the case that began with a political campaign ad in Louisiana and ended up changing American libel law forever.
When and where
Location
Holliday Forum, Journalism Building LSU 144 Field House Drive Baton Rouge, LA 70803
About this event
On November 13, the Reilly Center will host Dr. Eric P. Robinson, an Assistant Professor in the School of Journalism and Mass Communications at the University of South Carolina. Dr. Robinson's book, Reckless Disregard: St. Amant v. Thompson and the Transformation of Libel Law, examines the case that began with a political campaign ad in Louisiana and ended up changing American libel law forever. Dr. Robinson will moderate a panel of media law and political strategy authorities to discuss the effect of libel law on media operations and coverage of political campaigns as well as the implications of the St. Amant case locally and statewide.
Panelists Include:
Scott Sternberg
Scott Sternberg is a 2006 graduate of the Manship School of Mass Communication in Journalism. While at Manship he was the Editor-in-Chief of The Daily Reveille, the school's outstanding senior and a member of Leadership LSU.
After working in D.C., he returned to Louisiana to attend LSU Paul M. Hebert Law Center, where he was President of the Student Bar Association, graduated cum laude, and was a member of the Law Review and the Moot Court Board.
Today, Scott is the Managing Partner of Sternberg, Naccari & White, LLC, a law firm with offices in New Orleans and Baton Rouge. He currently serves as the Chair of the Louisiana State Bar Association's Young Lawyers Division, representing and advocating for the young lawyers of the state of Louisiana. He is on the Manship Alumni Board and the LSU Law Dean's Young Alumni Leadership Council. He also sits on the boards of the Pro Bono Project, the Jefferson Parish Chamber of Commerce, and the New Orleans Chapter of the Federal Bar Association.
Lori Mince
Lori Mince is a partner at Fishman Haygood. In her media law practice, Ms. Mince has represented The Times-Picayune newspaper, Cable News Network, The New York Times, ProPublica, Wick Communications, The Nation Institute, and others in cases seeking access to government records in a variety of criminal and civil court proceedings. She has also defended numerous defamation lawsuits against reporters and others.
Ms. Mince currently represents The Times-Picayune in a defamation action arising out of highly publicized disputes between the St. Bernard Parish Council and the Peralta administration. She also recently obtained dismissal of a defamation suit brought against a local television station by a Louisiana State Police Officer claiming reporting on his temporary suspension defamed him. Other recent matters include representing The New York Times in a lawsuit brought by Orleans Parish Sheriff Marlon Gusman, and representing a local television station in a defamation suit brought by a well-known priest. Both matters were dismissed.
Lindsay Rabalais
Lindsay Rabalais is a practicing attorney in Baton Rouge. She has been with the firm of Taylor, Wellons, Politz & Duhe for over two years, where her practice is focused on insurance defense, insurance coverage, transportation law and premises liability. A native of Lafayette, LA, Lindsay is proud to be a three-time graduate of LSU. She received her Bachelor's in Mass Communication: Public Relations in 2011, earned a Juris Doctor from LSU Law School in 2014, and graduated with a Master's in Mass Communication in 2015. Lindsay was admitted to the Louisiana bar in 2014, and began practicing law in a general practice firm, where she had experience with personal injury, criminal defense, commercial and family law cases. Lindsay has also previously served as an adjunct professor of Media Law at the Manship School, in 2016 and 2018.
Dr. Kyu Ho Youm
Kyu Ho Youm joined the University of Oregon School of Journalism and Communication in 2002 as the inaugural holder of the Jonathan Marshall First Amendment Chair. As a prolific communication law scholar, he has published a number of book chapters and research articles in a wide range of leading journalism and law journals. Youm's law journal articles on freedom of expression have been cited by U.S. and foreign courts, including the House of Lords in Great Britain, the High Court of Australia, the Supreme Court of Canada, and the Supreme Court of the Philippines. His media law research has been used by U.S. and international lawyers in representing their clients in press freedom litigation. Additionally, he has been quoted by a number of international and American news media, including the New York Times, on freedom of expression issues in the U.S. and abroad.
A member of the Communication Law Writers Group, Youm has been involved in writing Communication and the Law, a major media law textbook in the United States. He has also contributed to Media, Advertising, and Entertainment Law Throughout the World. A native of South Korea, he has authored several books on Korean and U.S. media law.
Since 2008, Youm has been the Communication Law and Media Policy editor of the 12-volume International Encyclopedia of Communication. He currently serves on the editorial boards of a dozen leading law and communication journals in the United States, England, and Australia. He is active on Twitter, and his tweeting has been noted in Forbes.com's "Eight Great Law & Technology Resources."
Youm was honored as the recipient of the Guido H. Stempel III Award for Journalism and Mass Communication at the Ohio University E.W. Scripps School of Journalism, as the Wee Kim Wee Visiting Professor at the Wee Kim Wee School of Communication and Information in Nanyang Technological University in Singapore, and as the distinguished global speaker of Yonsei University's BK21Plus program in Seoul, South Korea.