Location
Queens Library at Forest Hills
108-19 71st Avenue
Forest Hills, NY 11375
Sales Have Ended
Registrations are closed
Time has run out. Please try again. Thank you.
Description
How End-of-Life Planning Can Give Your Life New Meaning Now
善終計劃如何給予您生命新的意義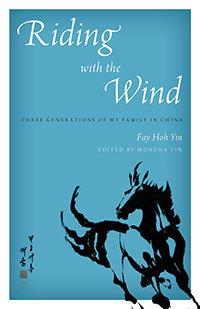 When Fay Hoh Yin expressed her end-of-life wishes to daughter, Monona, in 2015 their relationship and lives improved. Miraculously, she recovered from near death and the two have since published Fay's memoirs, Riding with the Wind, which they will share, followed by an interactive session to discuss end of life issues. We will be playing the "Go Wish" game.
Panelists Include:
FAY HOH YIN was born in Beijing in 1932 and grew up during the Sino-Japanese and Chinese Civil Wars. She and her family fled thousands of miles to escape the chaos, finally settling in Taiwan in 1949. She later came to the U.S. and earned a Ph.D. in biochemistry from the University of Wisconsin. She retired in 1991 after working for twenty-six years as a virologist for the DuPont Company in Wilmington, Delaware.
MONONA YIN is Director of Impact and Learning at Borealis Philanthropy. From 2004-17, she directed
capacity building at the Four Freedoms Fund, a national donor collaborative that has invested over $100 million in the immigrant rights movement. As an activist, Monona is a co-founder and former staff director of CAAAV Organizing Asian Communities in New York City. She graduated from Yale and lives in Brooklyn with her husband and daughter.
Dawn M. Gross, MD, PhD is a hospice and palliative medicine physician practicing at the University of California, San Francisco. Considered a national thought leader on end-of-life care, Dr. Gross is an education innovator and invited speaker whose writing has appeared in several anthologies and journals including the New York Times, JAMA, Science and Annals of Internal Medicine. She is also the creator and host of the radio show, Dying To Talk, the first of its kind program dedicated to transforming the taboo around talking about death.
Nancy Belza is an educator, coach, and planning activist who facilitates courageous conversations around living and dying, and starting with the end in mind. She combines natural compassion and innate storytelling abilities with over 25 years of financial services industry experience, personal passion born from experiencing a close personal friend's death, and 15 years of mental health advocacy to help people face end of life planning prepared and empowered.
Paul Puccinelli, MS, MFT is a licensed marriage family therapist, parent educator, and facilitator of Dying to Talk events and conversations. He has developed a special interest in helping people who are struggling with complications associated with prolonged acute grief, and in assisting couples successfully manage conflict and stay connected. Paul provides spiritual/pastoral/bereavement support and/or counseling while respecting individual beliefs, culture, and values.
In Chinese:
當郝飛在 2015年向女兒殷安中表達善終的意願時,她們的關係和生活都開始改善。奇妙地,郝飛從死亡的邊緣走回來,之後,她們出版了郝飛的回憶錄。她們在下午 2-3:30會與我們分享,接着會與大家一起討論有關善終計劃的問題。在下午 3:30-4:30,我們會玩"Go Wish"遊戲。
主講嘉賓:
郝飛 1932年在北京出生,見證了中日戰爭和國共內戰。她和家人為了逃避戰亂,在 1949年,千里迢迢的逃到台灣定居。她後來到美國求學,並在威斯康新州大學取得生化學博士學位。她在特拉華州的 DuPont公司任職病毒專家 26年,在 1991年退休。
殷安中是 Borealis Philanthropy 的 Impact and Learning 總裁。從 2004-17 年,她在一個名為 Four Freedoms Fund 的全國捐增者組織中負責籌款項目,該組織投資了超過 1億美元的捐款於爭取移民權益的運動上。作為一個權益鬥士,殷安中是紐約市 CAAAV Organizing Asian Communities 的聯合創辦人和前任人事董事 。她畢業於耶魯大學,現與丈夫和女兒居於布碌倫。
Dawn M. Gross, MD, PhD 是在三藩市的加州州立大學當善終及緩和醫療醫生。Gross 醫生被視為善終護理的國家權威,是位出色的教育家和受歡迎的講員,他的文章在紐約時報、JAMA、Science and Annals of Internal Medicine 等多份報章雜誌上刊登。她也是 Dying To Talk 收音機節目的創辦人和主持。這節目是第一個節目轉注於打破談及死亡的禁忌。

Nancy Belza 是位教育家、教練及善終計劃的推動者。她善於帶動有關生死的對話,特別以終結為開始。她本性好憐憫,又善於講故事,在財經界有 25 年的經驗、推動精神健康 15 年,且因好友身亡而對這題目產生切身的關注,非常熱衷於幫助別人準備和面對善終計劃。

Paul Puccinelli, MS, MFT 是一位註冊的婚姻家庭治療師、家長教育者及 Dying to Talk 節目和座談的主持。他特別有興趣幫助那些因長期哀傷而產生問題的人士,及幫助夫妻處理爭執和保持良好關係。Paul 提供靈性/牧養/哀悼的支持及/或輔導,且對個人的信仰、文化和價值觀絕對尊重。


---


Tickets Purchase Policy
Queens Library programs are free to the public. In order to make the programs available to the most number of people we are limiting general admission free tickets to 2 per individual. Multiple orders per individual are not allowed and will be cancelled. This policy ensures that no-shows are reduced and tickets are available to the most number of people.