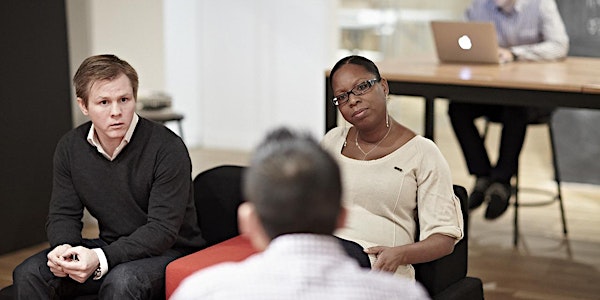 How Emotional Intelligence & Conscious Leadership Lead to Digital Transform...
Location
INDUSTRY RiNo Station
3858 Walnut Street
Denver, CO 80205
Description
Organizations in today's digital world face a level of complexity and uncertainty not seen before. This brings new possibilities and new challenges. According to a quote attributed to Albert Einstein, "no problem can be solved from the same level of consciousness that created it." We can only shift consciousness by transforming mindsets.
On Wednesday, February 28, join InSight Coaching & Consulting and General Assembly to hear from and interact with a progressive panel of leaders who understand the link between digital transformation and conscious leadership. They will discuss the role emotional intelligence and conscious leadership play in their strategy and what they are doing to embrace and embody these concepts within their respective companies.
Agenda
6:00 p.m. – Networking & Refreshments provided by Cannonball Creek Brewing
6:15 p.m. – Welcome & Introductions
6:30 p.m. – Panel
7:15 p.m. – Q&A / Discussion
7:45 p.m. – Event Wraps Up
---
Stefan Ramsbott, CTO/ Co-Founder, Pipeline
Stefan's passion for solutions building started at an early age, and was solidified through a management consulting position with American Management Systems (now CGI). He headed to Düsseldorf, Germany for three years to help design and develop a large Telecom ERP and Billing System for a major Telecom in Germany. It was here that Stefan developed his understanding of how to take a big solution vision from ideation to implementation. After his time in Germany, Stefan headed to Denver, Colorado and has never looked back. Upon landing in Colorado, he left the corporate consulting world to co-found 303 Software, a successful software consultancy. During his time at 303 Software, Stefan pursued several product opportunities. With a successful exit from side project MyRounding behind him, Stefan found his latest passion and product opportunity with Pipeline.
Clint Fayling, Founder/CEO, Street Cred Capital
18+ years senior management experience in mobile industry ventures including finance, advertising, content licensing, app development, and eCommerce distribution. Led two mobile content agencies from start-up through acquisition. Worldwide expertise and partnerships with media companies, development agencies, mobile carriers, phone manufacturers, and point-of-sale systems.
Michelle Trudeau, VP of HR TRC Healthcare
Michelle has worked in HR/Organizational Development and Training for 20 years with companies like General Motors, Healthgrades, Levi Strauss, and Oshkosh. Her expertise is in enabling organizations and individuals to manage change, increase performance, and meet or exceed goals by helping them create effective work environments and human resource systems. Michelle is also an executive/life coach. Michelle served as the Senior Vice President of Human Resources for Healthgrades Inc, Care Synergy, and currently, The Therapeutic Research Center. In the SVP role she was responsible for all facets of HR, tactical and strategic, including: merger and acquisition readiness and integration, organizational development, change management, employee/leader development, training, talent management, performance management, work force planning, recruiting, policy and communications. Michelle has a demonstrated ability to manage large-scale change, mergers and acquisitions in domestic and global settings. She possesses a strong track record of organizational development consulting, particularly complex, transformation across multiple functions, countries, regions, and with external business partners. She is an effective communicator who is able to establish collaborative relationships at all levels of the organization. During her time with General Motors, she worked globally with a variety of professionals in diverse fields including health, manufacturing, education, finance, aviation, travel, communications, and engineering. During this time, Michelle also worked with outside clients such as, Central Michigan University, EDS, and the Detroit Police Department. Michelle holds a Bachelor of Science degree in Psychology from Central Michigan University, and a Master's of Arts degree in Organizational Development from Fielding University, in Santa Barbara, California. Michelle currently operates her own HR/OD Consulting Company.
Renelle Darr, Founder InSight Coaching & Consulting & Co-Founder, Epochal
With so many people spending over half their waking life at work, Renelle Darr believes that emotionally intelligent workplaces and conscious leaders will change the world. She is the founder and president of InSight Coaching & Consulting and is an energetic, senior level leader with global expertise in cultural transformation, leadership coaching, strategic planning, facilitation and change leadership. She has over twenty years of experience spanning several industries including healthcare, technology, consumer products, non-profit, government and education. She is a systems thinker and has a unique ability to understand and partner with her clients due to her background and experience with strategy, finance, technology, and marketing.
She has coached hundreds of leaders and led large, complex global organizational change and strategy engagements both as a consultant and internal leader.In addition, Renelle speaks and facilitates workshops on emotional intelligence, culture and change transformation and related topics for organizations and teams. She also serves in interim executive roles during transitions to help foster cultures and re-shape strategy. Renelle has previously worked for EY, Deloitte and United Way.
She has a B.S. in Business Administration from Kansas State University and a M.B.A. from the University of Colorado. She holds ICF's Professional Certified Coach (PCC) distinction and is also a certified Emotional Intelligence Coach through the Institute for Social and Emotional Intelligence. She is also qualified to use a number of assessments.
She is involved in several community non-profits, has supported building a school in the slums of Northern India and can be found rock climbing, cycling and teaching skiing as her schedule permits. She resides with her husband and two children in Golden, Colorado.
Eric Meade, Founder Whole Mind Strategy Group & Co-Founder, Epochal
Eric Meade accelerates transformation by grounding the emotional charge of the past, creating the space for innovative thinking about the future, and providing tools and processes to bring new ideas into the present. As a futurist and organizational strategist, he has worked with global corporations such as PepsiCo Advanced Research, Mass Mutual, and Amplify Education, as well as local nonprofit clients like the Colorado Health Foundation and the Colorado Community Health Network. Eric is a past Board Chair of the World Future Society and has served on the Board of Directors of Counterpart International, a global development NGO. He is an adjunct professor in social enterprise programs at American University in Washington, DC, and at the Watson Institute in Boulder. He also teaches in the University of Denver's graduate healthcare leadership program. He has authored articles in World Future Review, Monthly Developments, Stanford Social Innovation Review, and Rural Health Voices, and is a co-author of Personal Success in a Team Environment, a leadership development workbook for front-line managers and staff. Previously, Eric served as a naval submarine officer, started up the China sourcing office for toy manufacturer Melissa & Doug, and worked as vice president of a Washington, DC think tank. Eric has an MBA from INSEAD and a Bachelor's in history from the University of Virginia. He is a certified Myers-Briggs Type Indicator (MBTI) practitioner and a graduate of the Newfield Network coach training program.
Lizelle Van Vuuren, Women Who Startup
Lizelle van Vuuren is a serial entrepreneur, technologist, producer, creator and all-around advocate for diversity and equality across industries. Born and raised in South Africa Lizelle has lived, studied and worked in the United States since 1997.

Lizelle studied Performance Arts and Psychology at The University of Colorado Boulder. She completed her BA with Honors from The Art Institute of Colorado and completed her MBA with Honors with a specialization in Marketing from Capella University.
---
By submitting your email address, you agree to receive updates about news, programs, and special events from General Assembly. Please refer to General Assembly's Terms of Service and Privacy Policy for more information.