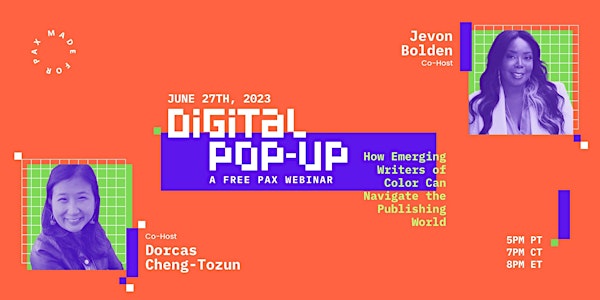 How Emerging Writers of Color Can Navigate the Publishing World
Hear the latest industry trends on diversity, barriers faced by BIPOC authors today, and advice when it comes to the world of publishing.
Date and time
Tuesday, June 27 · 5 - 6pm PDT
About this event
About this Event:
While the number of traditionally published books written by BIPOC authors is slowly increasing, the publishing industry continues to be predominantly white. How can new and emerging writers of color get their foot in the door? How can they write about the topics and stories they want to write about, rather than being constrained by stereotypes or market expectations?
In this 60-minute digital popup event, we'll discuss:
the state of diversity in the publishing industry today;
what barriers BIPOC writers continue to face;
what new and emerging writers can do to get noticed by publishers; and
how to remain centered and grounded while building a platform.
Join this lively discussion with Jevon Bolden, founder and CEO of Embolden Media, and Pax editorial director and author Dorcas Cheng-Tozun. The gathering will end with a time of Q & A.
Space is limited, so RSVP early.
ABOUT THE PRESENTER
Jevon Bolden is the founder and CEO of Embolden Media Group, a boutique publishing consulting firm that provides content development and literary services to help authors and publishers reach growing, diverse, and global audiences. Jevon is also the founder of the group Christian Publishing Professionals of Color, which provides support, career opportunities, and community for BIPOC (Black, Indigenous, people of color) in Christian publishing. As part of her work, Jevon is a book editor, writer, literary agent, and author of seven books, including her best seller, Pray Hear Write: 21 Days of Prayer and Fasting for Breakthrough in Your Writing.
ABOUT THE FACILITATOR
Dorcas Cheng-Tozun is the editorial director of Pax and the author of three books, including the new Social Justice for the Sensitive Soul: How to Change the World in Quiet Ways (Broadleaf). Her writing has appeared in the Wall Street Journal, Christianity Today, Inc.com, Image Journal, The Mockingbird Magazine, and dozens of other publications in the US, Asia, and Africa. She also has more than fifteen years of experience in the nonprofit and social enterprise sectors.
PAX is launching a new fellowship for young adults of color!
If you are an emerging writer, digital artist, social entrepreneur, or survivor-storyteller between the ages of 20-35, you are invited to apply for the PAX Fellowship, which will run from September 2023 to February 2024. Get spiritually grounded and discover your calling alongside a cohort of peers and experienced Christian leaders, writers, and artists. Learn more at www.madeforpax.org. The deadline to apply is June 30, 2023.
About the organizer
PAX is a faith-based organization that inspires the church to embody the peace and justice of Jesus through contemplative formation. We do this through the discipleship pathway of the multisensory StoryArc publication; Bible studies and guides that teach just living and peacemaking; and a vocational discovery fellowship for young adults. Through our efforts and that of countless others, we envision a community of everyday peacemakers building toward a more beautiful and liberated world together. Learn more at www.madeforpax.org.