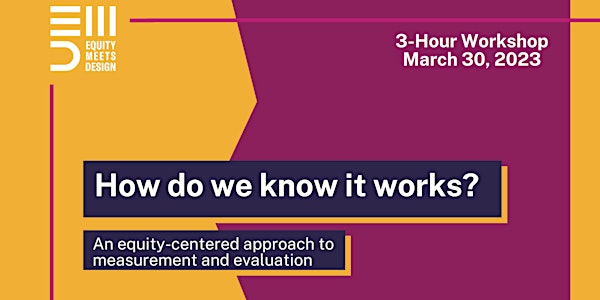 How Do We Know It Works? (March 2023)
Explore an equity-centered approach to measurement and evaluation ✨
Refund Policy
Contact the organizer to request a refund.
Eventbrite's fee is nonrefundable.
About this event
👉🏽We're sold out, but you should get on the waitlist!👈🏽
Waitlist 411: There's no obligation to buy if tix become available this time around, AND you'll be given first dibs the next time around 🎉.
Instructions: Click the orange "Get tickets" button in the right-hand corner, and then look for the orange "Join Waitlist" button at the bottom of the cart page. The person who would be in charge of signing up your team should be the one to join the waitlist -- if that's you, be sure to keep your eyes peeled for an email from us in the future re: priority registration for the next "How Do We Know It Works?"
###
**This workshop offering is live & remote, via Zoom (a recording will be provided)**
Working in a job that "has meaning" and is meant to "better the world" can feel a little bit like crazy-making doublethink: sometimes we feel like we're really making an impact, and other times we feel like our work isn't moving the needle at all (or might even be making things a little worse). Yet, **almost all of the time** we don't actually know which (or both) of these things are true, to what extent, and why.
In a nutshell: many organizations design evaluation systems as an afterthought, as an act of compliance to external demands, or in service of their own interests, needs, and timelines. Perhaps the most paradoxical part is that the folks most frequently left out of any kind of intentional process (if there is one) are in the communities we aim to design for and the staff on the actual frontlines of the work. When we ask organizations if whatever is being measured or evaluated is important to people on the frontlines, we usually get a whole lot of ?!😵‍💫!?
At Equity Meets Design we strive to build the capacity of individuals and organizations to align their equity values with all of their day-to-day practices, because design decisions aren't neutral, power isn't neutral, and numbers certainly aren't neutral. For us, this kind of embedded practice contributes to meaningful changes in behavior and is the difference between paying lip-service to equity and truly doing equity.
This workshop will be an opportunity to explore how to do equity by more closely interrogating how you know what you do works and the methods you currently use to find out. Regardless of whether you're still in the process of developing your evaluation/measurement practice or you already have an existing set of practices that are up and running, this workshop is a great starting point or gut check.
WHO IS THIS FOR & WHAT WILL I LEARN?
By the end of this session, our goal is for participants to walk away feeling comfortable in their ability to:
diagnose where your organization is in its current practice as it relates to its equity values (can't improve if you don't know where you are)
use some specific tools and approaches that are intended to strengthen the alignment between your evaluation and measurement practice(s) and your equity values (learning by doing)
identify where and how people who are most proximate to the problem show up or can show up throughout your measurement practices/processes (from the definition of research questions through the use of data to improve solutions)
We will share a tool called the 8 Problems with Evaluation & Measurement (see the 8 problems here) which participants will then apply to their own work.
Participants will be guided through a deep dive into their own evaluation and measurement practices and processes through the lens of each of these common problems. Examples and mini-cases will be offered, but the bulk of our time will be spent with you applying our framework to your particular context! Regardless of team size or the stage of your work, what we can promise is a fun and supportive environment in which to discuss and explore critical aspects of designing for evaluation and measurement equity and discover what you might bring to your specific organization context.
A word on what this workshop is not. We will not focus on developing an understanding of what equity is or what evaluation or measurement are – a basic knowledge of both will be assumed. We will not be touching on the technical aspects of evaluation research design, data analysis and visualization, or knowledge management systems; while we think that the 8 Problems with Evaluation & Measurement tool is helpful in the design of any aspect of a comprehensive evaluation or measurement system, technical aspects of creating those systems will not be covered.
Who should register: We encourage organizations to send whole teams (ideally with at least an evaluation person, a program person, and a communications person), but any group of three-6 folks from your organization who wish to have this conversation are welcome. You may only enroll in groups.
Pre-work: Because participants will be using the tools we provide as a way to understand their organization's current practices, we will ask participants to bring artifacts of their current practice with them to the session. Registrants will receive an email closer to the workshop date with more details about what to bring.
WHO ALL IS TEACHING THIS?
This workshop will be led by Aislinn Betancourt and Dr. Kofi Taha.
WHAT'S THE SCHEDULE?
This is a one-time workshop, which will be held Thursday, March 30th , 2023 @ 12pm - 3pm est.
WILL RECORDINGS BE PROVIDED?
This workshop will be recorded, and the recording will be available to registrants for 3 months after the workshop.
WHAT'S THE INVESTMENT?
$475 for a group ticket of three seats or $900 for a group ticket of six seats -- we recommend bringing a team composed of an evaluation person, a program person, and a communications person, but any group of three to six folks from your organization who wish to have this conversation are welcome.
Head's up:
👁️ You can only purchase tickets in groups of 3 or 6 (i.e. $475 total for a group of 3 or $900 total for a group of 6) 👁️
You'll be asked for each team member's name and email address during the checkout process. Also -- the ticket buyer does not have to be an actual group member, so no worries if the person that needs to pay isn't actually going to participate.
Also, there are only 10 group tickets available, so don't say we didn't tell ya bc you know what happens when ya snooze…🤧
FAQ:
ACTUALLY, MY JOB SHOULD TOTALLY FREAKING PAY FOR THIS!
We agree, which is why you should send them this Employer FAQ and ask👏🏽them👏🏽to👏🏽pay👏🏽up👏🏽 🤑💸. Not sure what to say in order to ask? Use the email template we wrote just for you, and if you'd like even more guidance, here's our Guide to Getting your Employer to Sponsor You.
Also – don't forget about PD funds! Many organizations have "professional development funds" that are earmarked for the specific purpose of…you guessed it…professional development, just like this workshop! Accessing them is usually pretty easy and straightforward – talk to your manager, HR department, or consult your employee handbook to find out if you have PD Funds and what steps to take in order to access them.
PAYMENT/REFUND POLICY:
We want you to be totally happy and fulfilled, so, if you're not satisfied with the course, please let us know at kofi@equitymeetsdesign.com and we'll do our best to make it right. Refunds can be requested up until one calendar week after the course ends.
🚨Important Caveats!🚨
1. Refunds are not available for scheduling conflicts, even unforeseen ones ☔. Don't forget that the session will be recorded in case something comes up.
2. We cannot retroactively apply coupon codes! (If you're having trouble finding where to input a coupon code, you're not alone -- when you're on the shopping cart page, look for the blue "Enter promo code" text in the upper left-hand corner.)
3. We ask that y'all tender payment directly through this Eventbrite page whenever possible, but if you absolutely need to pay by ach/wire transfer, please email sayhello@equitymeetsdesign.com and we'll send you an invoice (additional fees may apply). Please note that for workshop offerings, we're unable to go through vendor registration/purchase order processes because of their high administrative impact on our small-but-powerful team. Also, payment has to be tendered first in order to register; a.k.a. you can't sign-up for this workshop without first buying tickets.
TRANSPARENT PRICING POLICY:
How did y'all price this?
This offering is priced on the lower side because this is the second time we're doing this content in this format! We're still iterating our programming, refining our materials, and figuring out what questions and support folks need at this stage. If you like a good deal, might not be a bad idea to grab your seats this time 'round because there's a good chance admission will go up in the future ⬆️💸.
Who gets discounts and how do those happen?
If/when we offer discounts, folks who are subscribed to our newsletter find out first, so make sure you're signed up!
HAVE QUESTIONS?
Email us at kofi@equitymeetsdesign.com and we'll get back to you super soon 😘