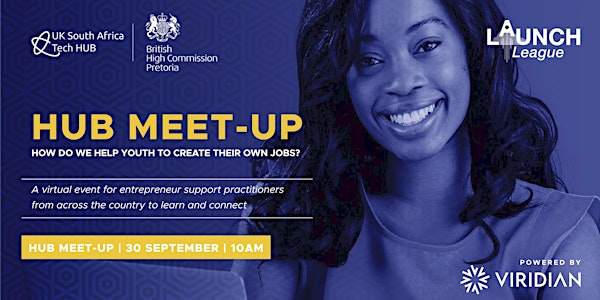 How Do We Help Youth To Create Their Own Jobs? Launch League Hub Meet-up
This UK-South Africa Tech Hub Launch League Hub Meet-Up will discuss how to Capacitate Youth to Create their Own Jobs.
About this event
UK-South Africa Tech Hub Launch League Hub Meet-Ups are back, creating a space for entrepreneur support practitioners from across the country to connect and share their experience working in support of the entrepreneurial ecosystem.
With the recent unemployment stats released, it is even more apparent that South African youth are in crisis. An astounding 46.3% of South African youth between 15 to 34 are jobless.
What's needed is a fundamental shift in how we think about jobs, employment & entrepreneurship. We need South African youth to hustle, to be incredibly resilient, and we need to structures so that youth can develop their own pathways to employment
Please join us at the September Hub Meet-up, where we will be discussing how to capacitate our youth to create their own jobs. Joining the discussion is a panel of entrepreneurship and skills development experts, and we will open the floor for comments from attendees. We look forward to a rich discussion!
Join our incredible community of entrepreneur support professionals as we develop the solutions that will give our youth the ability to not only survive our current crisis, but thrive well into the future.
What will be Discussed? How do we support South African youth to Create their own jobs?
Hosted by: UK-South Africa Tech Hub Launch League
Who Should Attend?: Anyone working at or leading an entrepreneurship hub or entrepreneur support organisation (ESO)
When: 30 September 2021, 10am -11.30am
Platform: Zoom
Expert Panel:
1. Ian Calvert - Founder at FURTHER | Ex Global Project Leader, Red Bull Amaphiko
2. Poppet Pillay - Director at DUT Centre for Entrepreneurship
3. Qhakaza Mbali Mthembu - Chief Operating Officer at Digify Africa
Hub Opportunities: Please contact Viridian on damian@viridian.africa if you'd like to learn more about the UK-South Africa Tech Hub Launch League hub initiative and other hub capacity building opportunities for your team. https://launchleague.co.za/upcoming-hub-training-opportunities/