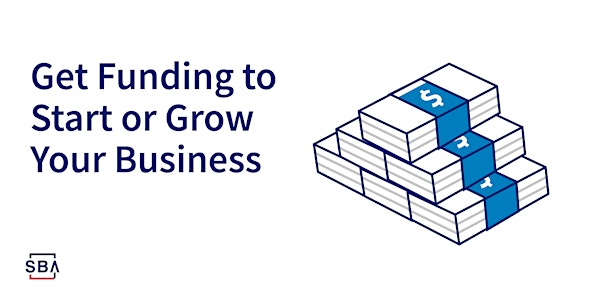 How Do I get a Loan to Purchase Land, Buildings and Heavy Equipment?
The CDC/504 Loan Program provides long-term, fixed rate financing of up to $5 million for major fixed assets that promote business growth
About this event
Come Learn about two-tiered financing up to 90% for the following purposes:
• Building acquisition, expansion, or construction
• Land and site improvements
• Machinery and equipment
• Leasehold improvements
Guest speakers
Debbie Sudhoff, Executive Director, Areawide Development Corporation located in Alcoa, TN. Areawide Development Corporation is a non-profit corporation, certified and regulated by the Small Business Administration to package, process, close and service SBA 504 loans throughout the state of Tennessee. Debbie joined Areawide Development Corporation in March of 2010 as a Business Development Officer / Loan Officer. Prior to joining Areawide, Debbie worked in the financial industry for twenty years in the Greater Knoxville market. Debbie was introduced to the SBA 504 program as a commercial lender and feels her experience of working both sides of the 504 program are invaluable. She utilizes her experience to assist lenders who are unfamiliar with the program! Debbie also has strong ties to her community; she is currently serving her second term on the Blount County Board of Education School Board and is Vice Chair. She also serves on the Boards of the East Tennessee Chapter of RMA and the Blount County Community Action Agency.
Dean LaRue, Commercial Bank. As a University of Tennessee and TBA Southeastern School of Banking Graduate, LaRue has over 25 years banking experience with over 15 years of SBA and commercial lending experience mostly served in his native Knoxville community. Since working with the SBA directly, LaRue helped Commercial Bank earn the Tennessee District SBA Community Bank of the Year award and also served as a Planning leadership member for the 2018 Small Business Lenders Conference. Additionally, he has also served on many panels and discussion groups presenting his 'Small business Borrowing Shortcuts' and 'Understanding your Credit Score'. As a Knoxville native, he also manages an SBA & Commercial Loan portfolio of $100,000,000.
Kate P. Belcher, AVP Government Lending began working at FB&T in 2016, moving to the Government Lending Division in spring of 2019. Spring 2020 became the head of the division. Cover Virginia, North Carolina, and Tennessee currently.