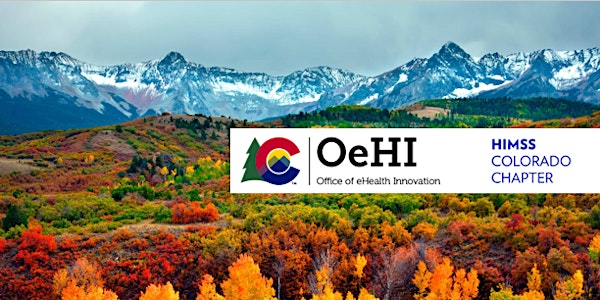 How Digital Literacy & Digital Equity Support Health Equity
Celebrate Global Health Equity Week, by learning about the potential of health info and tech to transform health and minimize disparities.
When and where
Location
American Mountaineering Museum 710 10th Street Golden, CO 80401
Refund Policy
Contact the organizer to request a refund.
Eventbrite's fee is nonrefundable.
About this event
Hosted by State of Colorado Office of eHealth Innovation & Colorado Chapter of HIMSS
3-5:30pm Education (Foss Auditorium)
Presentations on How Digital Literacy & Digital Equity Support Health Equity
• Cory Hussain, MD, MS Inf, Assoc CMIO Denver Health, Topic: Innovation, Inclusion & Digital Literacy, Joint Commission Guidelines, "Race, Ethnicity and Language (REAL): Refueling the conversation for health equity by asking questions where they matter."
• Samantha Stonbraker, PHD, MPH, RN, Assistant Professor, The University of Colorado College of Nursing, UC Health, "Info Viz for Health: An informatics-based solution to enhance clinical communication with Latino persons living with HIV"
• Melanie Colletti, MS, Digital Equity Manager, Office of the Future of Work, and Ashley Heathfield, MPH, Colorado Governor's Office of Technology, Topic: Colorado Digital Equity Grant.
5:30-7:30pm Networking (Museum & Lobby)
Drinks, appetizers, and socializing in a historical building with a unique museum showcasing American Mountaineering History
Dr. Hussain is a physician with 20 plus years of clinical and operational experience who has practiced in the Denver metro region since 2002. He left Colorado in 2014 to pursue academia with fellowships in Clinical Informatics and Infectious Diseases at the Ohio State University. He completed fellowship and was associate director of the antibiotic stewardship program at the Ohio State University. Dr. Hussain joined Denver Health in 2019 with an academic appointment of Clinical Assistant Professor at the University of Colorado, Anschutz, division of Infectious Diseases. Currently he is the associate CMIO of Denver Health for health equity and clinical effectiveness. He has focused on leading clinical IT strategies to improve clinical outcomes by using data to ensure high value, cost effective and equitable care delivery at Denver Health. His recent work includes leveraging data to improve health metrics in underserved populations and he has future plans to develop predictive and prescriptive analytics that address health equity in practice.
Dr. Samantha Stonbraker is an Assistant Professor at the University of Colorado College of Nursing where she teaches in the bachelors, masters, and doctoral level. Her research focuses on developing and evaluating informatics-based interventions to improve health outcomes and reduce health disparities in Spanish-speaking, medically underserved populations both locally and globally. She is supported by the NIH through a K99/R00 career development award (K99/R00 NR017829) that is aiming to assess the efficacy of using a mobile application that contains the HIV-related infographics she developed to enhance clinical communication with Latino persons living with HIV through a multi-site randomized controlled trial taking place in the Dominican Republic and the United States.
Melanie Colletti joined the Office of the Future of Work as Digital Equity Manager in September of 2022, bringing with her an awareness of inequities around digital inclusion, resilience, and literacy, which she acquired while working directly with public library customers wanting to access health information, apply for jobs, or connect with family online. Prior to her role at OFOW, Melanie was a public librarian and branch library manager for over 16 years, championing digital equity for older adults, people who have been incarcerated, and other historically marginalized folks for the majority of her professional career. Melanie has a Masters in Library and Information Science from the University of Denver.
As one of the Office of eHealth Innovation's Senior Project Managers, Ashley Heathfield's work is focused on virtual health and digital health equity projects. She is passionate about leveraging technology to create a more equitable healthcare landscape, and working collaboratively with local and state partners to decrease health and access disparities. Ashley has spent most of her career in the public sector and has a history of working across teams and state agencies to maximize efforts and sync shared objectives, particularly when it comes to telehealth and equity in access to digital tools. Ashley holds a Masters of Public Health from Colorado State University.