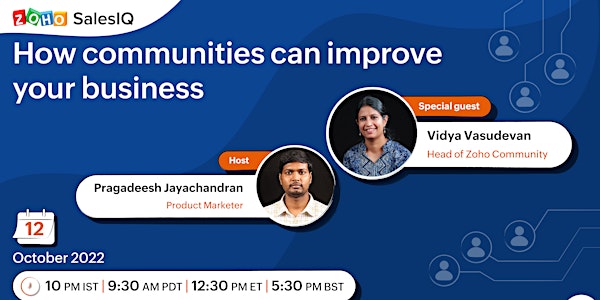 How communities can improve your business
Join us and learn how communities can help you reduce your marketing and operating costs and more.
About this event
To follow up with our last webinar, 'Nurture a community to improve customer experience' (we highly recommend everyone to check out that recording - https://zurl.co/HyqW), we're changing the structure of SalesIQ's Actionable Marketing webinar by bringing in a special guest for our next session.
Vidya Vasudevan, Head of Zoho User Community, will be joining us to discuss all the ins and outs of the community and how it can help businesses of various sizes, from startups and SMBs to enterprises.
We'll also have a Q&A session with Vidya where you can ask how you should approach, set up, nurture, and scale your community.
Register now to join us Wednesday, October 12th.
Session agenda:
How to approach community
Benefits of nurturing a community
Why a startup should focus on community and how to go about setting it up
Scope of communities for small and medium businesses
Should enterprises need to have communities? What can they benefit from communities?
Q&A session with Vidya