About this Event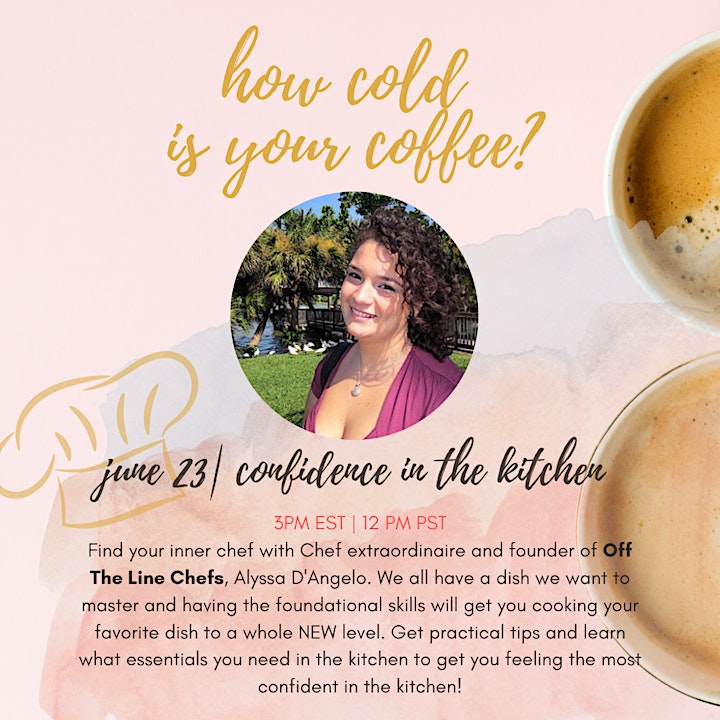 Join our not your average weekly "coffee talk" with a diverse round of women from all over the world as we touch on refreshing topics.
Fire Dash Media Founder, Therese Miu, and MOMCOM NYC Founder, Alyce Chan, host a fun and casual chat over a virtual cafe. This is a space where each of our voices are heard and supported; a safe space where we carve out for ourselves and to bring an element of power back in our lives during these trying times.
Find your inner chef. In this session, we welcome guest speaker Alyssa D'Angelo, founder of Off the Line Chefs. Is there a dish that you crave to cook? Do you already have a favorite dish that you love to cook? Do you want to take that dish to the next level?
Just being equipped with the foundational skills and tools will get you to be that rockstar chef who OWNS the kitchen. Get practical tips and all your questions answered by Chef extraordinaire Alyssa herself, and start feeling the most confident in the kitchen!
Grab your coffee or drink of choice and sip with us!
Hosted by Therese Miu & Alyce Chan
Read more for additional details:
Some weekly meet ups, we will be free-flowing, without much structure, touching on everyone's moods and finding out what everyone is up to. Some meetups, we'll be joined with a specialist or expert to provide some healthy and mindful soundbites to keep us adjusted in this rapidly changing space.
Regardless of what the subject matter is for that Tuesday, you'll feel a sense of belonging and community, where we mostly laugh, chat and cheer each other on. We dedicate this hour each week as a way to help you "steal back" some of your time.
We are always excited to meet new faces and make connections with amazing women from all parts of the world. Our space is limited to 20 free spots each week so be sure to sign up early. Once our capacity for complimentary tickets are filled, we open up additioal seats for any donation amount. All women and mamas are welcome to join.