Description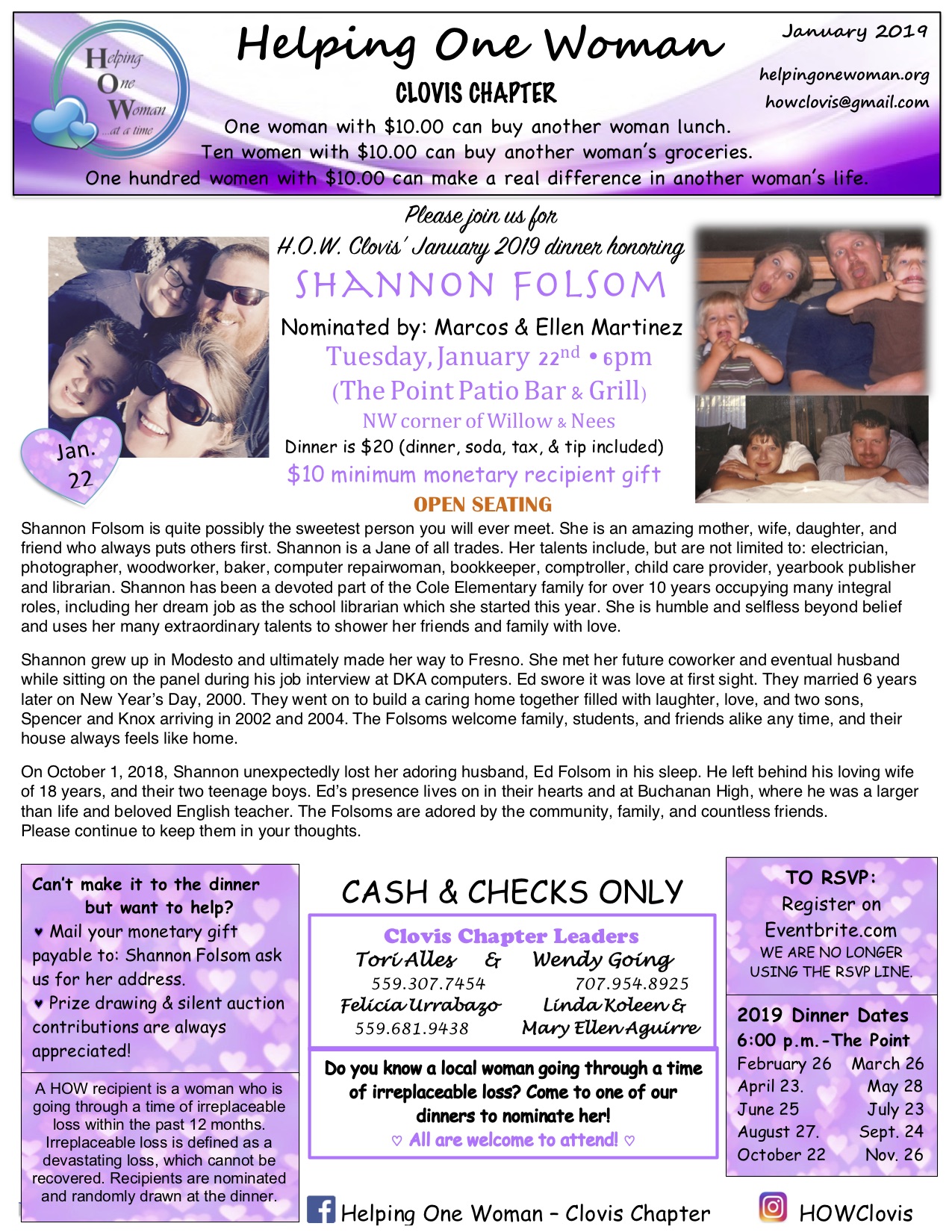 HOW IT WORKS:
RSVP by Friday, January 18th, on Eventbrite, we need to turn in a headcount on Saturday the 20th. We need an accurate headcount to ensure that we have enough seating for all of our attendees.
It is open seating, so an RSVP does not reserve you a table, only a guaranteed seat. We TRY to reserve tables for parties of 6 or more. To reserve a table, please have ONE personRSVP for the group-up to 6. We are expecting a sellout crowd, so please get your RSVPs in ASAP so we can make accommodations for everyone.
***If you RSVP for more than one person, email: howclovis@gmail.coma complete list of those in your reservation.
If you have any additional questions, please feel free to email howclovis@gmail.com or message us on Facebook
We will also have a prize drawing and silent auction the night of the dinner.
Prize drawing tickets are $1 each or $5 for 6, and must be paid with cash or check made payable to Shannon Folsom.

Prize drawing and silent auction contributions are always appreciated.
Dinner is $20 for adults (cash is preferred and will be paid at the dinner

Additionally, attendees are asked to give a minimum gift of $10 (cash or check made payable to Shannon Folsom), which will be given to Shannon at the end of the evening.
***All of the proceeds from the $10 gift bowl, prize drawing tickets, and silent auction will be given to Shannon at the dinner during the program. The money is a tangible expression of our love and support, but your presence at the dinner and your support for Shannon, really is the driving force behind the organization.
During the dinner, attendees are invited to nominate an honoree/recipient for the next dinner. Each individual can fill out ONE nomination form. The recipient for the next dinner is randomly drawn by the current recipient and announced that evening. If your recipient is chosen, you are the sponsor for the next dinner.
Please note sponsors have the following responsibilities:
Confirm your nominee has accepted the honor to be the next HOW recipient within 48 hours.

Provide a biography and a few photos of the nominee by the 25th of the month.

You are required to provide prizes for the prize drawing at the next dinner

You are required to designate 3-5 people to help sell the prize drawing tickets at the next dinner

You are responsible for providing silent auction items, if you choose to have a silent auction.
Can't make it to the dinner but want to help?
Mail your monetary gift payable to Shannon Folsom & ask us for her address or donate a prize or silent auction item.
EVENTBRITE IS THE ONLY WAY YOU CAN RSVP.
PLEASE ensure that only one person from your party is RSVPing. Multiple RSVPs from people in the same party make it very difficult for us to submit an accurate headcount.
PLEASE NOTE THAT YOU CANNOT MODIFY YOUR RSVP. IF YOU NEED TO CHANGE YOUR HEADCOUNT, YOU MUST CANCEL YOUR RSVP AND RSVP AGAIN.
YOU DO NOT NEED TO PRINT YOUR TICKET TO GET INTO THE RESTAURANT.