Description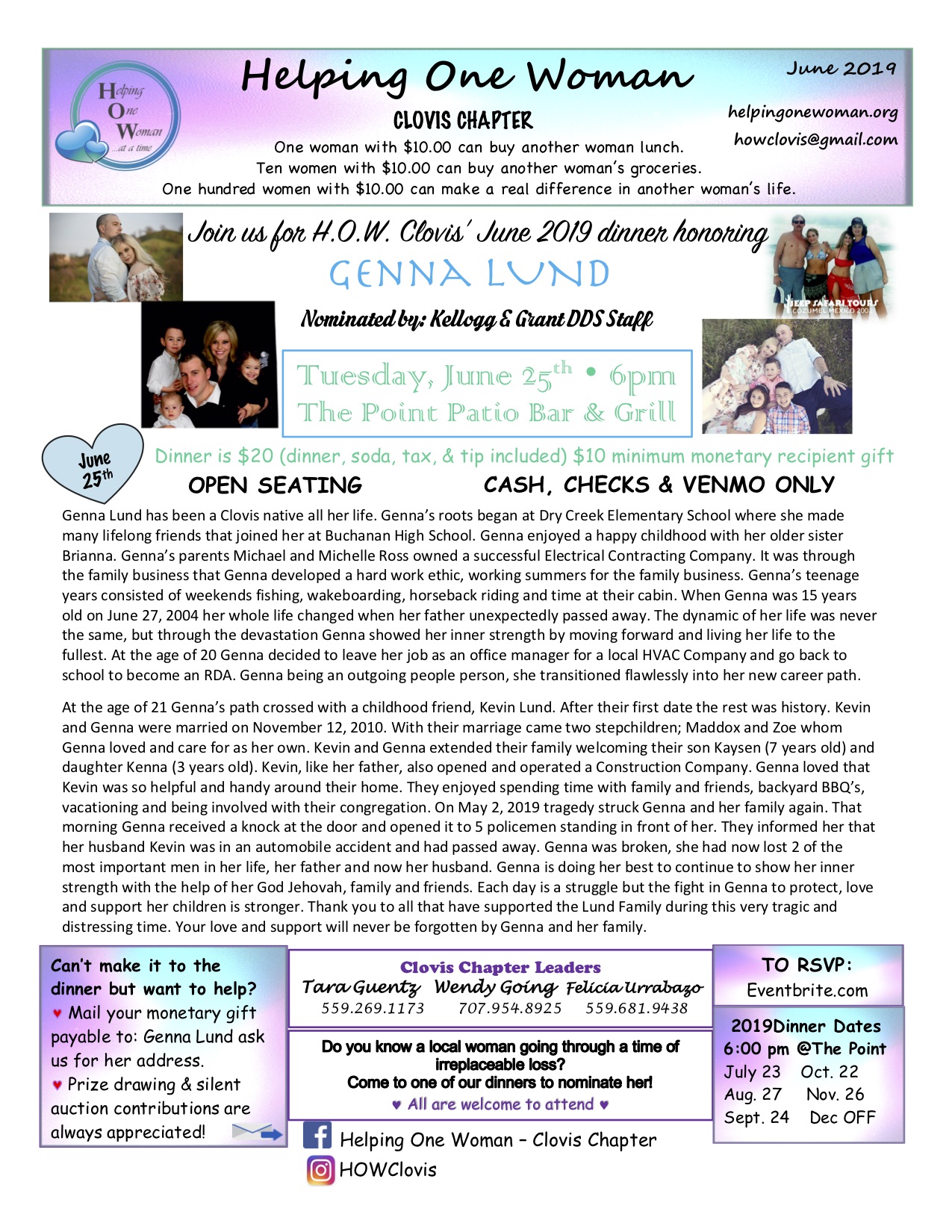 HOW IT WORKS:
Please note that it is open seating, so an RSVP does not reserve you a table, only a guaranteed seat. We only reserve tables for parties of 6 or more. To reserve a table, please have ONE person RSVP for the group so that we have the proper head count.
We will have a prize drawing and silent auction.
Prize drawing tickets are $1 each or $5 for 6, and must be paid with cash, Venmo, or check made payable to the recipient.

Prize drawing and silent auction contributions are always appreciated. Please note that these contributions are not tax-deductible because the proceeds go directly to our nominee.
Please feel free to invite your friends and family for a fun night out, while helping a local woman who is going through or has suffered an irreplaceable loss.
Dinner is $20 for adults (cash preferred) and attendees are asked to give a minimum gift of $10 (cash or check made payable to the recipient), which will be given to the recipient at the end of the evening. At the end of the evening, the all of the proceeds from the $10 gift bowl, prize drawing tickets, and silent auction are handed over to the evening's recipient. As nice as the money is, the feeling of support and community is what really makes the difference.
During the dinner, attendees are invited to nominate and sponsor a recipient for the next dinner. Each individual can fill out ONE nomination form. The recipient for the next dinner is randomly drawn by the current recipient. The next dinner recipient is announced later that evening. If your nominee is chosen, you are the sponsor for the next dinner. Please be aware that you have the following responsibilities as a sponsor:
You are required to provide a biography and a few photos of the nominee within 48 hours of nomination

You are required to provide prizes for the prize drawing

You are required to designate 3-5 people to help sell the prize drawing tickets at the next dinner

You are responsible for providing silent auction items if you choose to have a silent auction for your nominee
Please RSVP via Eventbrite ONLY.
Can't make it to the dinner but want to help?
Mail your monetary gift payable to the recipient & ask us for her address or donate a prize or silent auction item.
EVENTBRITE IS THE ONLY WAY YOU CAN RSVP.
Facebook RSVP's are NOT counted as they are often duplicates, so we assume you mark "going" to share the event with your friends.
PLEASE ensure that only one person from your party RSVPs. Multiple RSVPs from people in the same party make it very difficult for us to submit an accurate headcount.
PLEASE NOTE THAT YOU CANNOT MODIFY YOUR RSVP. IF YOU NEED TO CHANGE YOUR HEADCOUNT, YOU MUST CANCEL YOUR RSVP AND RSVP AGAIN. YOU CAN DO SO BY FOLLOWING THESE STEPS:
Open your confirmation email that you received when you submitted your RSVP

Click on "View and manage your order online"

Click on "Cancel Order"

IF YOU ARE CHANGING THE NUMBER IN YOUR PARTY, YOU NEED TO RSVP AGAIN THROUGH EVENTBRITE.
YOU DO NOT NEED TO PRINT YOUR TICKET