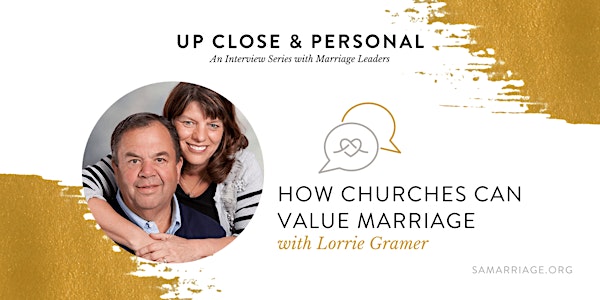 How Churches Can Value Marriage with Lorrie Gramer
Up Close and Personal Series with Marriage Experts
About this event
How Churches Can Value Marriage
"Till Death Do Us Part." Catholics have traditionally taken their marital vows seriously and discourage divorce. But how has the Catholic Church invested in helping couples strengthen their marriages, and what is it doing now?
"This work is incredibly important," says Lorrie Gramer. "The future of our church depends on what's going on in marriages and families today."
There are obstacles such as misperception, to overcome when seeking to minister to marriages. The church is not often thought of as a place to get marital help. But as Lorrie says, "God has a mighty work to do for marriage and family. He will raise up the leaders. It will happen one couple at a time. We can serve our Lord by enriching and strengthening and serving marriages. We have a vision of how God is doing something that does make a difference in marriages. I can tell many stories of people with mended relationships who are now leading marriage ministries."
Join us as we hear Lorrie Gramer share her heart on marriage, and hear about how her and her husband Don are promoting marriage building efforts in the Catholic church.
Read more at our blog!
Supporting the Church | Raising up Marriage Champions with Lorrie Gramer
About Lorrie Gramer:
Lorrie and Don Gramer are fellow marriage champions who've concentrated their more than four decades of work in building marriages in Catholic dioceses across the United States. Lorrie Gramer and her husband, Don, were early advocates of marriage building since the Marriage Encounter they attended on their second wedding anniversary in 1974 proved transformational. In the past 40 years, they have helped more than 25,000 couples prepare for marriage through the Diocese of Rockford, Ill, where they served as Diocesan Family Life Directors for 30 years, including 22 years as Directors of Bishop Lane Retreat Center and seven years as Directors of the Office of Family, Youth and Young Adults. Their latest efforts have been with the non-profit they created in 2013, MarriageBuilding/ConstruyendoMatrimonios USA.
Find out more about their work as marriage champions at Marriage Building USA
----------------------------------------------------------------------------
The vision of the San Antonio Marriage Initiative is the restoration of family, by strategically investing in marriage, for the strengthening of communities and the glorification of God. All of the information provided on our website should be interpreted as an effort to fulfill that vision. Opinions expressed by speakers and presenters at San Antonio Marriage Initiative events are not necessarily those of the San Antonio Marriage Initiative. Our events and communications are intended to be educational and informational in nature and are not to be considered professional counseling nor are they intended to replace the services provided by trained professional counselors and therapists. If a link takes you to a site other than samarriage.com (or any page found at that web address), then we are not responsible for the information or content at that linked site. By accessing our website, you agree that any disputes you have with San Antonio Marriage Initiative will be submitted to the conflict reconciliation procedures of Peacemaker Ministries. San Antonio Marriage Initiative is not affiliated with Peacemaker Ministries.